How to Wash your Honda UTV Windshield
Jul 14th 2020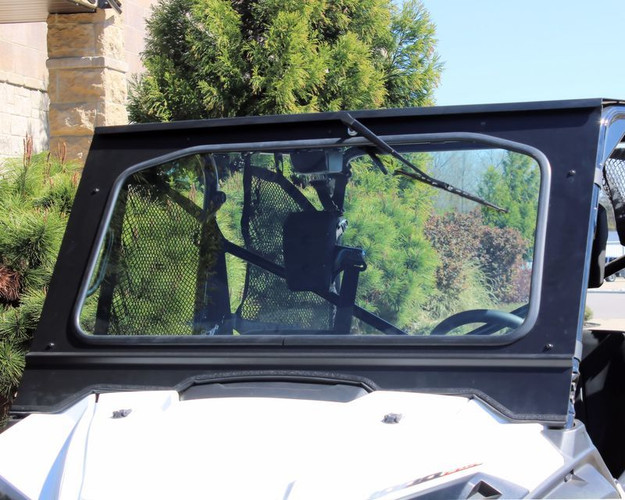 Whether you're working hard or playing hard in your Honda Pioneer or Honda Talon, you can expect your windshield to be completely covered in mud to show for it. While all that dirt and grime serves as a symbol of damn-good time, leaving your rig uncleaned can actually harm it in the long run and end up costing you money to repair or replace it. All the same, improperly cleaning it can be just as much of an issue, as having a clear sightline is crucial to safely operating your UTV. Unfortunately, cleaning it right is not as simple as just hosing it off, or using any old rag and soap combo. So before you let the mud dry onto your Pioneer, let's take a look at how properly cleaning your windshield will prevent damage while saving you money in the long run.
Know your Material
Before you get started, it's important to know what material your Honda Pioneer windshield is made of. Whether it's glass, acrylic or polycarbonate, each requires its own maintenance process. Glass is scratch-resistant, so you can clean it virtually any way you'd like, though the best way is always rinsing it with water and wiping it down with a cloth. Acrylic, which is also known as Plexiglass and Lucite, is fairly scratch-resistant, but not quite so durable as glass. Polycarbonate is the strongest of the three materials but is susceptible to scratching, which is why it is imperative that users know how to clean their windshields safely and effectively without compromising the quality of the material.
How to Properly Clean
Now that you know the type of material you're dealing with, how can you get that dried-up grime off your windshield safely?
First, thoroughly wash your windshield, but don't pull out the sponge or rag just yet. The grit and gravel in all that dirt can easily scrape up your windshield if it's smudged around with a rag. To minimize damage, start by using a hose to rinse away any loose dirt.
Next, you'll need a cloth. We recommend a soft, lint-free cloth that is brand-new, though a used one will work just fine so long as it is completely clean. Rinse your cloth and be sure you don't see any particles in the water before use.
Create a mixture of mild liquid dish soap and warm water, or a UTV-specific cleaning solution. Novus is a popular solution among UTVers and can be found on Amazon. If you have a polycarbonate shield, avoid using harsh abrasives or chemicals that might cause damage, and instead consider using a light detergent such as dish soap, baby shampoo or hand soap.
After rinsing, you'll have to put in a little elbow grease to get the rest of the dirt off. Wet your cloth in your cleaning solution and wash your windshield's interior and exterior, applying light pressure to reduce the risk of scratching. Do not use paper towels or Windex; paper towels are abrasive, while Windex is a harsh solution that may scratch the surface.
Once all the dirt is wiped away, rinse the windshield down once more to clear away any remaining loose dirt. Spot check as you see fit, using the recommended side-to-side motion. Let your windshield airdry for 30 minutes to 2 hours, depending on the humidity of your location.
Once your rig is dry, you're all set to get muddied up on the trails all over again! Stay safe while riding, and be sure to check out Everything Honda Offroad for all your UTV parts and accessories. Still need a windshield? Browse our Windshields available from several brands.