A Complete Buyer's Guide For Honda Pioneer Snow Plows
Mar 29th 2021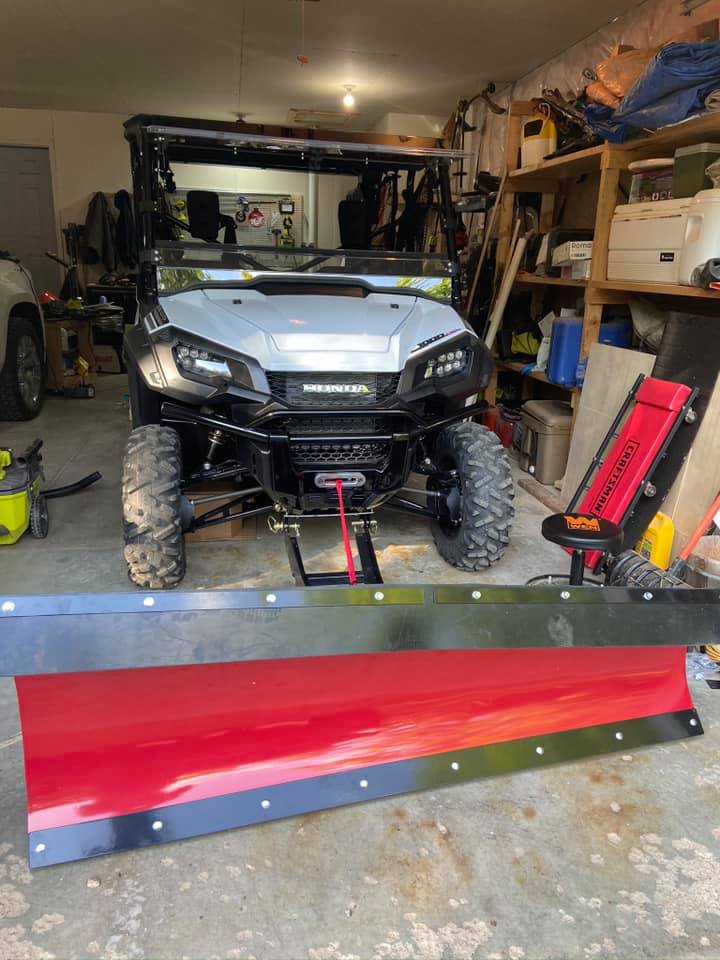 Whether you're located in an area where light snowfall is common during the winter months, or a place where deep drifts accumulate well into spring and refuse to melt until early summer, don't let snow get the best of you and equip your rig with a Honda Pioneer snow plow! But with so many UTV snow plow options out there for the Honda Pioneer 1000, Honda Pioneer 700, and Honda Pioneer 500, which one should you choose? And on top of the myriad snow plow brands on the market today, you must also consider the various features that each brand offers; such as blade width, hydraulics, in-cab adjustability, etc. If you live in the south where it only dips below freezing once in a blue moon, the information contained herein will be of little use to you. For those in more northern latitudes, however, knowing the pertinent information about UTV snow plows can be of great benefit. So without further ado, here is our Honda Pioneer snow plow review!
Honda Pioneer Kolpin Snow Plows
The Honda Pioneer snow plow kit by Kolpin Outdoors is one of our best sellers here at Everything Honda Offroad. Not only is the Kolpin snow plow kit affordable, but it also comes with everything you need to start moving snow (besides a winch). The stamped steel snow plow blade is extremely rugged, with a square-style push tube that mounts underneath the nose of any Honda Pioneer model. Kolpin's Honda Pioneer snow plow can be assembled in less than an hour, and then when the weather starts to change, it can be disassembled just as easily.
Although the Kolpin offers 60" poly blades as well as 72" steel blade options for their Honda Pioneer snow plow kit, most users opt for the 72" blade. When angled, a 72" snow plow blade will still cover the entire width of your Pioneer -- measuring in at 65.1" at the maximum angle position. Be it heavy spring snow or 24 inches of dry powder, you can handle it all with a Honda Pioneer snow plow kit from Kolpin!
Honda Pioneer KFI Snow Plows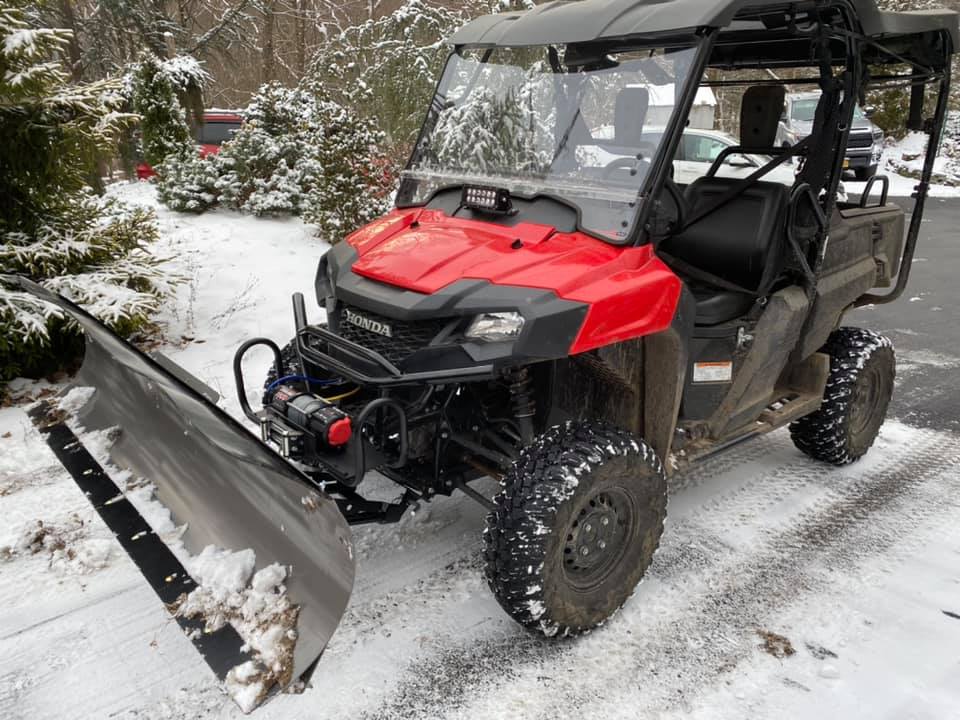 Like Kolpin, KFI also offers a 72" snow plow kit that works well with UTVs like the Honda Pioneer. Although the firm also makes smaller ATV snow plows, the Pioneer is more than capable of handling larger 70"+ plow blades. And for those who've installed snow tracks on their Pioneer, KFI also manufactures track extension plow actuator kits! Throw in a KFI winch for reliable plow operation and you've got yourself a recipe for success!
Honda Pioneer Denali Plows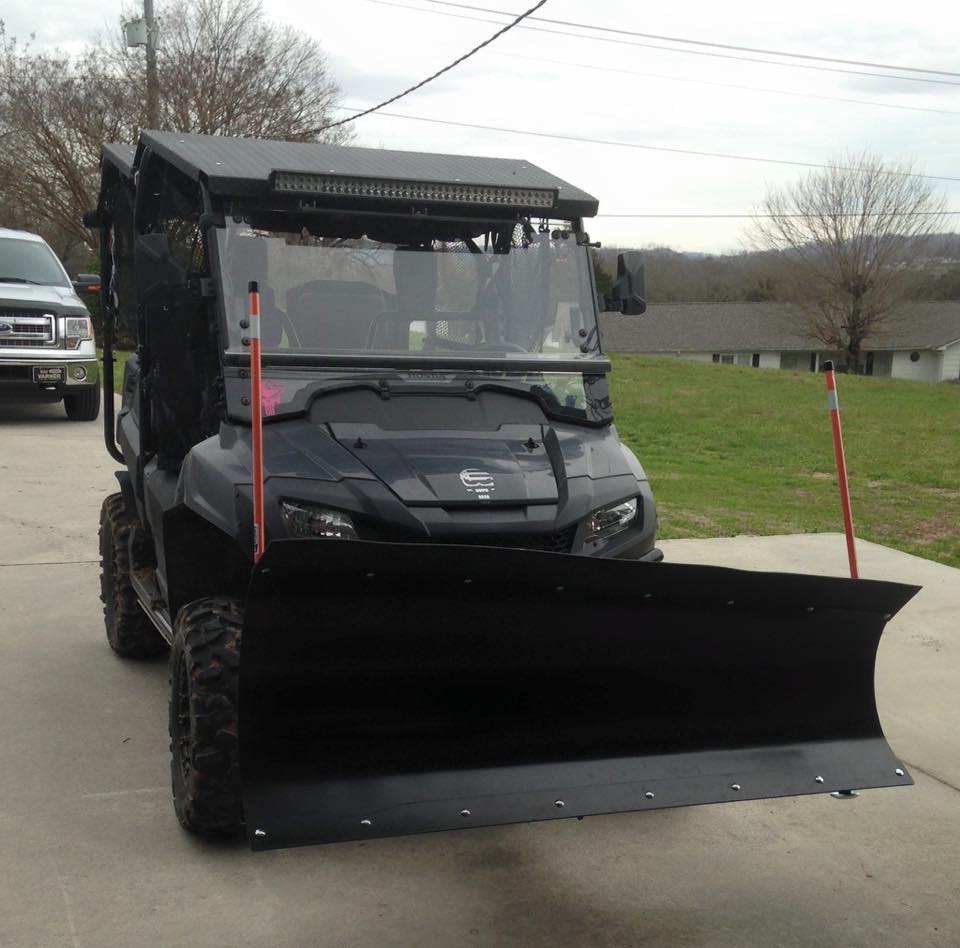 Denali plows by Motoalliance are fantastic units, with the Pro Series plows being particularly suited for use on the Honda Pioneer. You can use Denali snow plows with KFI and other winch mounts, and with Motoalliance's quick-release pins, you'll be able to remove the Denali plow within seconds. Compared to the Warn ProVantage snow plow setup, the Denali plow is far superior. While both are built to last, the Denali Pro Series snow plow is much more capable of handling long pushes. Like State DOT snowplows, the Denali plow for the Honda Pioneer is designed to roll snow off to the side. As the name would suggest, straight blades are made for pushing snow in a straight direction. And although you can angle most Honda Pioneer snow plow blades to achieve a similar result, the Denali snow plow just moves snow better. Be it a private driveway with a 25% grade, or a large flat parking lot, a Denali plow won't let you down!
Honda Pioneer Snow Plow Considerations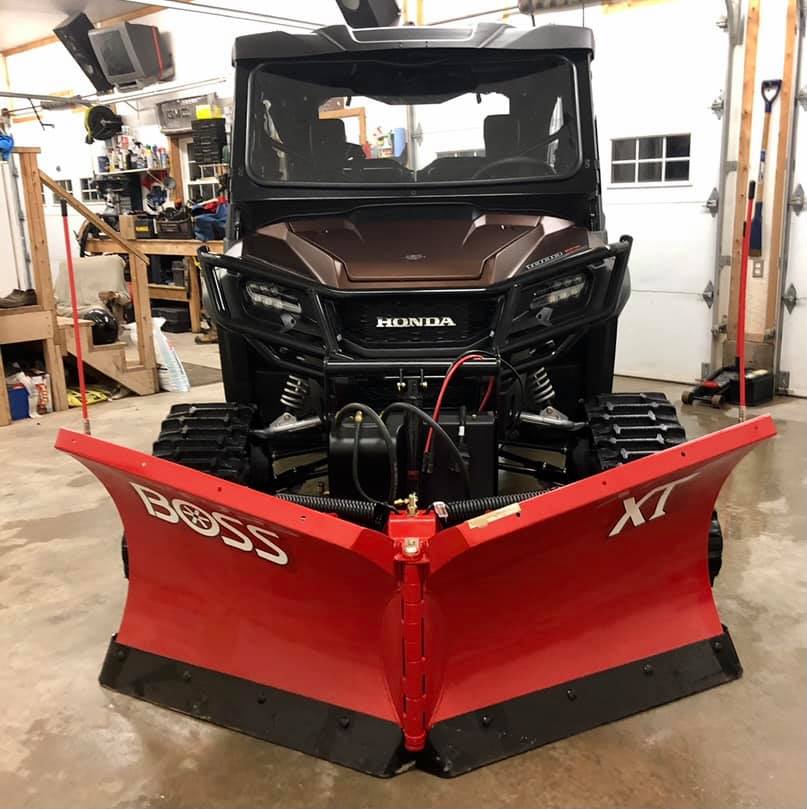 If you're plowing feet of snow for hours on end, you might want to take some precautions to avoid overheating. Aftermarket fan switches can be installed on the dash to control how often the fan goes on. And having a manual override for the radiator fan is a surefire way to prevent overheating. Like overheating, losses in ground clearance due to plow mounts can also be an issue. Some Honda Pioneer plow mounts can protrude downward several inches, so removing them when you're trail riding in summer might be prudent. That being said, because they're made from hardened metal, they can definitely take some scrapes and bumps if you end up leaving the plow mounts on your machine year-round.
Whether you're plowing snow, ice fishing, or conducting hay bale rides, operating your Honda Pioneer in the cold may require some additional precautions. Your oil, for example, must meet JASO-MA specs, and due to Honda's wet clutch design, you'll need to ensure that your cold-weather oil offers 3-way protection for your engine, transmission, and wet clutch. But even with cold-compatible oil, your rig will still need time to warm up and circulate oil. If you don't let your Pioneer idle for 5-10 minutes after starting it up, the vehicle might feel like it's lacking power with a slight slip in the clutch. If your bike still feels funky in the cold, you might want to overfill the oil by ½ quart after everything warms up.