Can You Take the Honda Talon or Pioneer Overlanding and Camping? (Spoiler Alert: The Answer is Yes!)
Mar 10th 2022
With all of the uncertainty and turmoil going on in the world right now, let's face it: we could all use a break. And what better way to take a break from life, than to take your Honda Pioneer or Honda Talon on its first overlanding and camping trip?
Sounds like a pretty great idea, doesn't it?
But as they sit, the stock Pioneer and Talon models aren't exactly ready to transport you, your passengers, and all of the requisite gear to the campsite. Which brings us to this list of the must-have overlanding and camping accessories for your UTV. Before we jump into accessories and modifications for your side-by-side, check out this quick list of essential camping gear you absolutely must bring with you:
Sleeping bags and pillows
Proper clothing and shoes for the climate you'll camp in
Pots, pans (a cast iron skillet is perfect for camping), plates, cups and utensils
Toilet Paper (Do NOT forget this one…)
Bug repellent
Bear/Pepper spray
Sunscreen
Deodorant, toothpaste and a toothbrush (Duh!)
First-Aid Kit
Firewood (and something to light a fire with)
Maps of the surrounding area (in case of no cell reception/dead batteries)
Alright… That was a lot of gear, wasn't it? Crazy enough, that isn't even everything. I am sure you will find at least a few more items to add to that checklist to make sure you have a comfortable camping trip.
This brings a new question to mind, though: where the heck are you going to store everything?
Honda Pioneer and Talon Cargo Space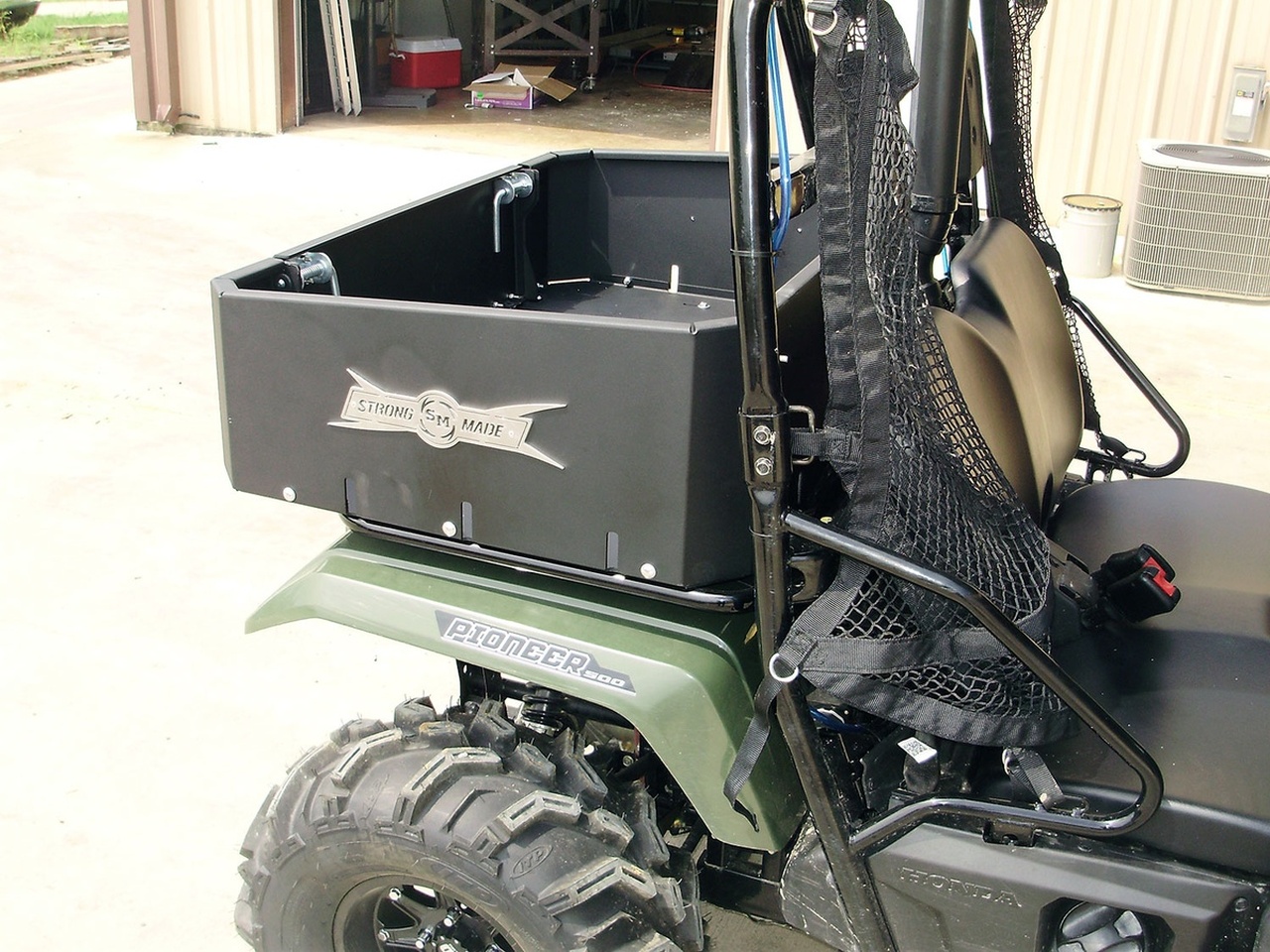 Sure, taking the Honda Pioneer overlanding and camping may seem like a breeze.
What with its ample bed space and more utility-style design, you've definitely got room to spare. Especially if you add a cargo basket to the build to fit those larger items that won't fit in the bed. Or in the case of the smaller 500 series, something like a Honda Pioneer 500 Cargo Bed by Strong Made will give you tons of extra space you always wished you had.
I'm sure Talon owners are screaming: "what about us?" at this point! We love the sporty beast of a side-by-side as much as anyone else. But one look at it will tell you all you need to know about its available cargo space: it's almost non-existent.
You can add products like the Honda Talon Cargo Gate Rear by Rough Country to give you some semblance of a rear bed to store smaller items in. If you want to add much more space all at once, however, think about adding these two pieces to your UTV: a Honda Talon Front Hitch Utility Rack by Ranch Armor to the front, and a Honda Pioneer/Talon OffRoad Hitch-N-Ride Hauler by Great Day in the back.
This combination will give you ample space in the rear and front of the Talon for your camping gear. Thanks to their build and design, you can even ratchet strap your gear down to ensure it doesn't go flying when you hit a bumpy trail while taking your Honda Talon overlanding and camping.
Since we have the cargo space figured out, lets talk about one of the coolest ways to level up your camping game:
Rooftop UTV Tents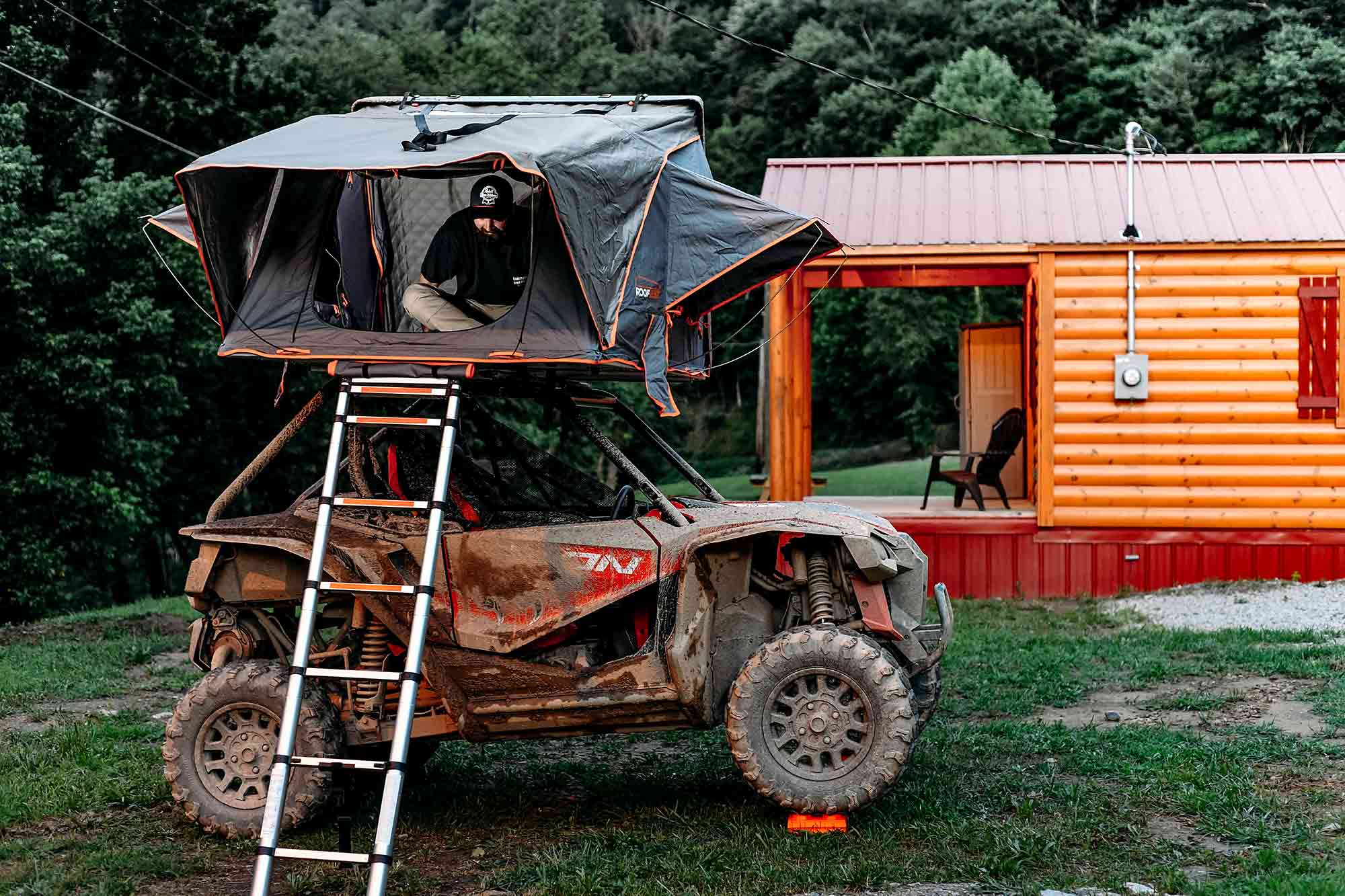 Humans have been camping since, well, always. And one fact has always stood the test of time, though, which is that our need for shelter never ends.
Traditional tents work well, as they are light and easy to transport, as well as easily packable in a way that takes up minimal space. But tents also have downsides, such as not being able to keep you as warm at night, and allowing more chances for bugs and critters to get in the tent with you.
Rooftop tents, however, have been catching on more and more in recent years.
So much so, that now it has become commonplace to mount one to the roof racks or roll bars of your Honda Pioneer or Talon. Models such as the Honda Pioneer / Talon Roof Top Tent by Rough Country are primed and ready to mount atop your UTV. Installing and setting up in mere moments, the rooftop tent is a perfect camping addition. You will find yourself up and away from bugs and other wildlife you share the camp with. And since the tent is up in the air, you'll be warmer at night being away from the cold ground, and can cool down easier by catching a cross breeze.
The rooftop tent has exploded in popularity for a reason, and it is time for you to seriously think about replacing your old ripped-up tent from your days in the Scouts!
Campfire Food and Keeping it Fresh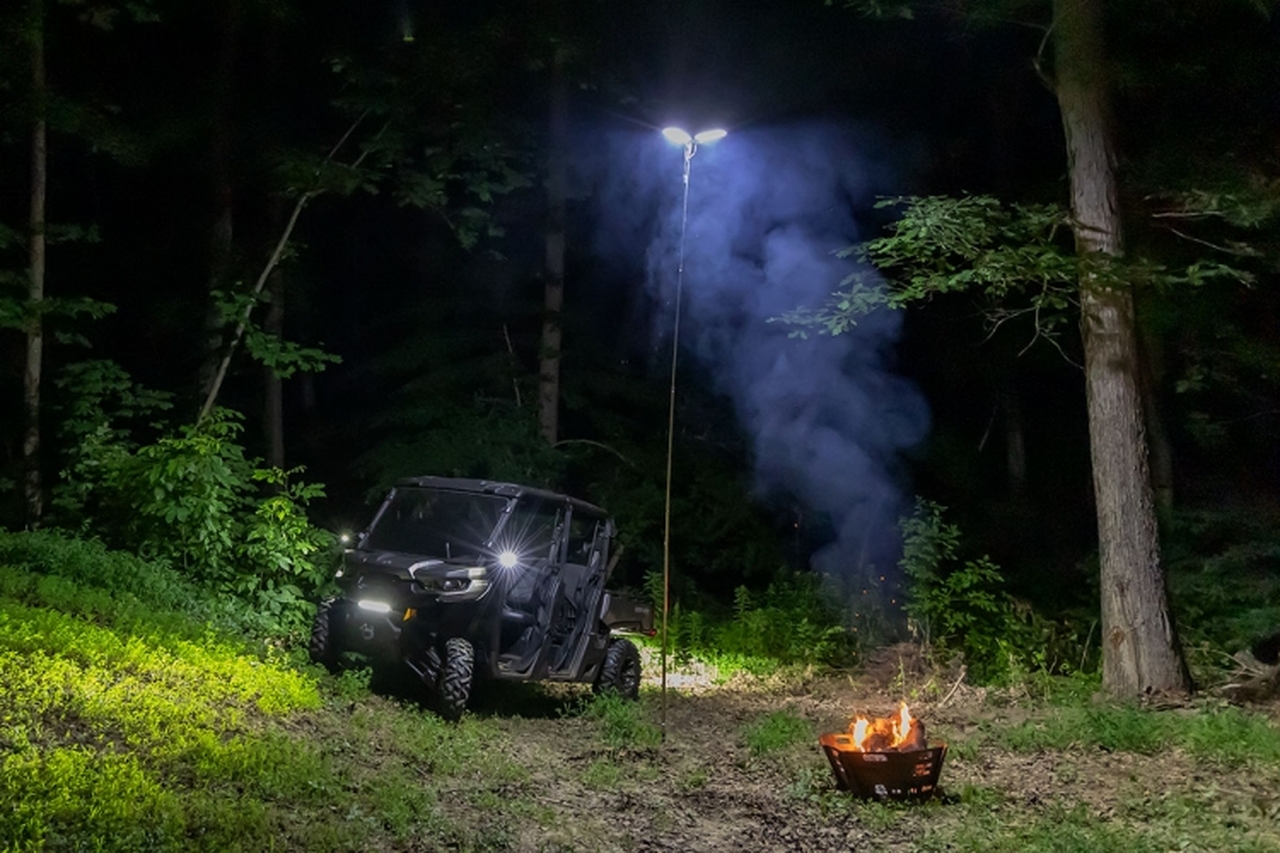 We wanted to round out this list by talking about food, and were sure you'd have no objections there.
Putting together your recipe list for the camping trip is one of the best parts, because everyone looks forward to cooking over a campfire. Theres something just so… primal about it, right? In order to keep all of your perishable food cold, however, you'll need a decent cooler setup!
Coolers like the Honda Pioneer/Talon 60QT Super Cooler by Kolpin Powersports provide a ton of storage capacity, while also being extremely well insulated. They're able to keep food cold for days on a single batch of ice as long as you don't keep it open all the time.
Longer camping trips can require a more elaborate solution, however.
A refrigerator, as weird as that sounds, may be what you need for trips that come up on the one week or longer mark. Especially in situations where you are so far away from civilization that picking up extra ice is out of the question. We love the Honda Pioneer/Talon 45L Portable Refrigerator/Electric Cooler by Rough Country for its capacity, compact design, and ease of use. Our only suggestion will be to also set up a Honda Pioneer dual-battery kit so that your fridge and other electric-powered accessories don't drain your main battery and leave you stranded.
And just like that, with all of these additions and modifications you should be prepared and ready to take your Honda Talon or Pioneer on your next overlanding and camping trip.
Just don't forget the hot dogs and S'Mores, or else it isn't a real camping trip!