Honda Pioneer Vs. Can-Am Defender: A Detailed UTV Comparison
Aug 15th 2023
The Utility Task Vehicle (UTV) market is bursting with top-notch models designed to cater to various off-road activities, ranging from utility purposes to exhilarating adventures. Among these, the Honda Pioneer and Can-Am Defender have made their marks, impressing with their remarkable performance, design, and versatility. In this blog post, we'll delve into an in-depth comparison between these two dynamic UTVs to assist you in making a well-informed decision.
Performance
First, let's take a look under the hood. The Honda Pioneer features a 999cc liquid-cooled twin-cylinder engine, offering impressive torque and acceleration. With its Automatic Dual Clutch Transmission (DCT), the Pioneer ensures a smooth ride, and its selectable 2WD/4WD and differential lock system deliver optimum traction on various terrains.
In contrast, the Can-Am Defender is powered by a robust 976cc Rotax V-Twin engine that pushes out up to 82 horsepower in its top model. It's equipped with a Pro-Torq transmission featuring Quick Response System (QRS) technology for high airflow and cooling. Its selectable 2WD/4WD with lockable rear differential ensures excellent handling on diverse landscapes.
Design and Comfort
In terms of design, the Honda Pioneer showcases a rugged, utilitarian aesthetic with a heavy-duty steel cargo bed and full-body skid plate for added protection. It has a substantial ground clearance of 12.7 inches for improved off-road capability.
On the other hand, the Can-Am Defender impresses with its sturdy and sleek design. It boasts a versatile, heavy-duty cargo box capable of hauling up to 1,000 lbs and has an 11-inch ground clearance. It also includes an integrated front steel bumper and full skid plate for increased durability.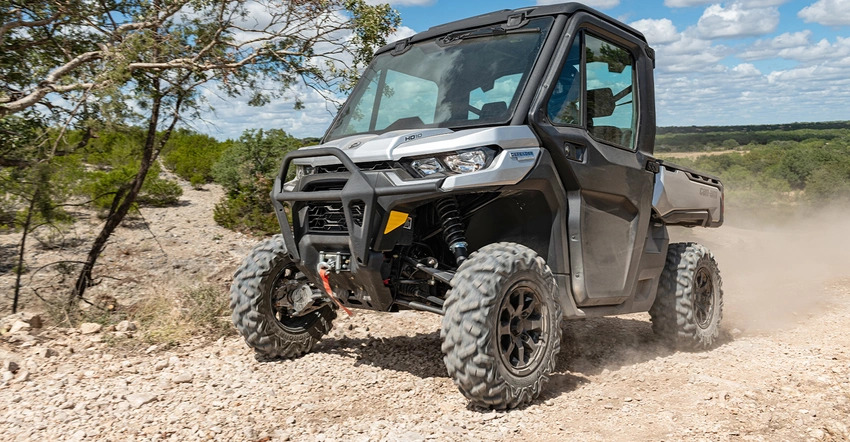 Interior Comfort and Technology
The Honda Pioneer is designed with comfort in mind, featuring plush seats and an adjustable tilt steering. It also boasts a LCD display providing essential vehicle information and comes equipped with Electric Power Steering (EPS) for enhanced handling and ride comfort.
The Defender, meanwhile, offers a roomy interior with a three-person bench seat and an adjustable driver's seat. Its digital gauge delivers vital vehicle statistics at a glance, and it also features hill descent control for added safety on steep terrains.
Price and Value
As of 2023, the Honda Pioneer's base model is priced around $15,899, while the Can-Am Defender starts slightly higher at approximately $14,099 for its base model. Both UTVs offer a variety of trims with additional features, letting you choose according to your budget and requirements.
While the Honda Pioneer provides solid performance and utility at a competitive price, the Can-Am Defender offers added power and versatility, making its slightly higher cost worthwhile.
Conclusion
Both the Honda Pioneer and the Can-Am Defender stand out as top contenders in the utility UTV market. If you value reliable performance, smooth handling, and practical design, the Honda Pioneer may be your preferred choice. However, if raw power, greater cargo capacity, and additional comfort features are what you're after, then the Can-Am Defender might be a better fit.
Ultimately, the choice between the Honda Pioneer and the Can-Am Defender will depend on your individual needs, preferences, and budget. If possible, we recommend scheduling test drives for both models to experience their unique capabilities firsthand. No matter which UTV you choose, rest assured that both models promise a fantastic off-road experience. Happy trails!