Honda Talon & Honda Pioneer Lift Kits
Mar 1st 2021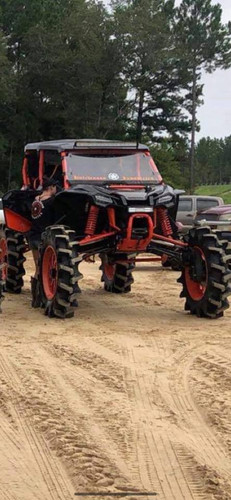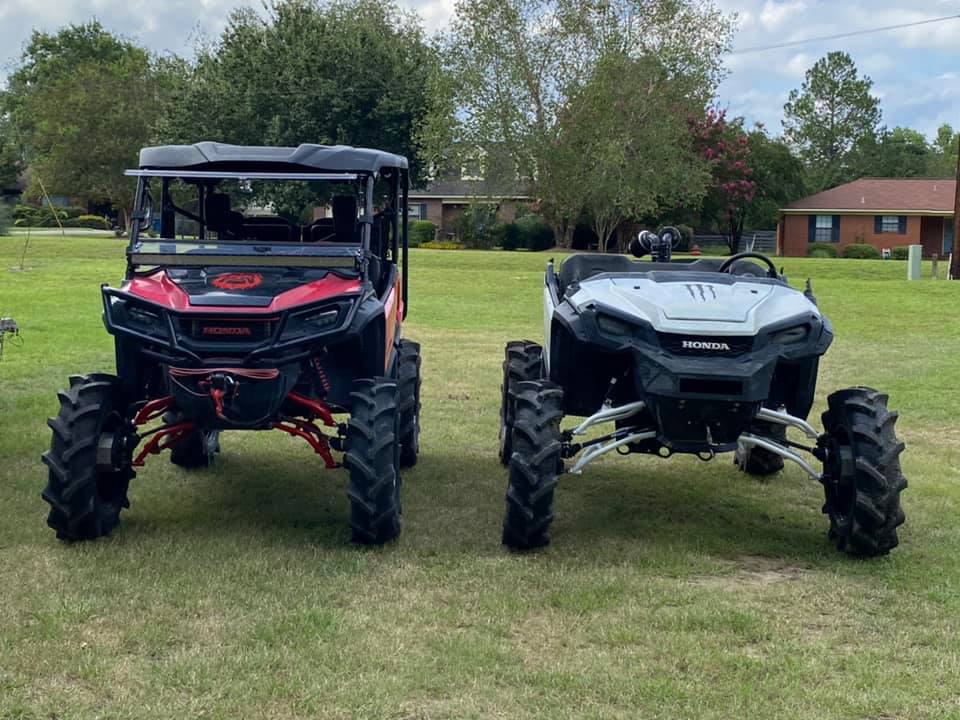 There are many reasons why riders choose to install lift kits on their Honda Talons and Honda Pioneers. For one, the ground clearance gained from a lift kit allows the UTV to traverse larger obstacles -- be they rocks and logs or water / mud hazards. Lift kits for the Honda Pioneer and Talon also create space for larger tires, which not only improves traction, but also decrease braking distances and improves both handling and cornering. Whether you're eyeing a simple bracket lift for your Honda Pioneer 700, or a portal gear lift for your Honda Talon 1000 R, this article outlines how to lift your Honda UTV as well as the rationale behind specific styles of Honda UTV lift kits.
Honda UTV Lift Kit Styles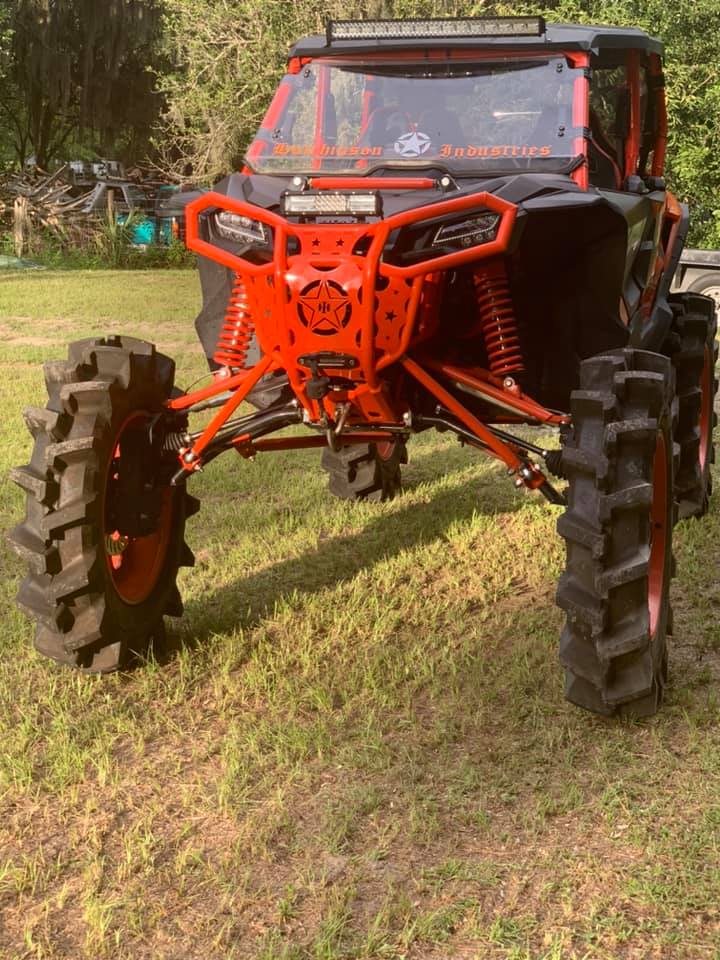 When considering lift kits for your Honda Talon or Honda Pioneer, it is important to think about more than your budget alone. If all you want to do is clear 30" tires, you can easily get by with some high clearance, arched, or forward a-arms from aftermarket part makers like C-Fab and SATV. Alternatively, if you do more hill climbing and rock crawling than mud riding and fancy something to help with the flex, removing your sway bar can help significantly.
Honda UTV Bracket Lifts
One of the most affordable options to lift a Honda Talon or Honda Pioneer is with a bracket-style body lift. Companies like High Lifter, Moose, SuperATV, and RT Pro all make bracket lifts for Honda UTVs. You can get a small 2" bracket lift, or raise things up even higher with a 2.5", 3", or even a 4" Honda Pioneer / Talon bracket lift. It should also be noted that many styles of Honda UTV lift kits aren't mutually exclusive. You can pair a bracket lift with a portal gear lift for some extra torque, or install a long travel kit alongside your bracket lift to soften up your ride -- as bracket lifts are notorious for making the vehicle's suspension stiff / rough.
Honda UTV Suspension Lifts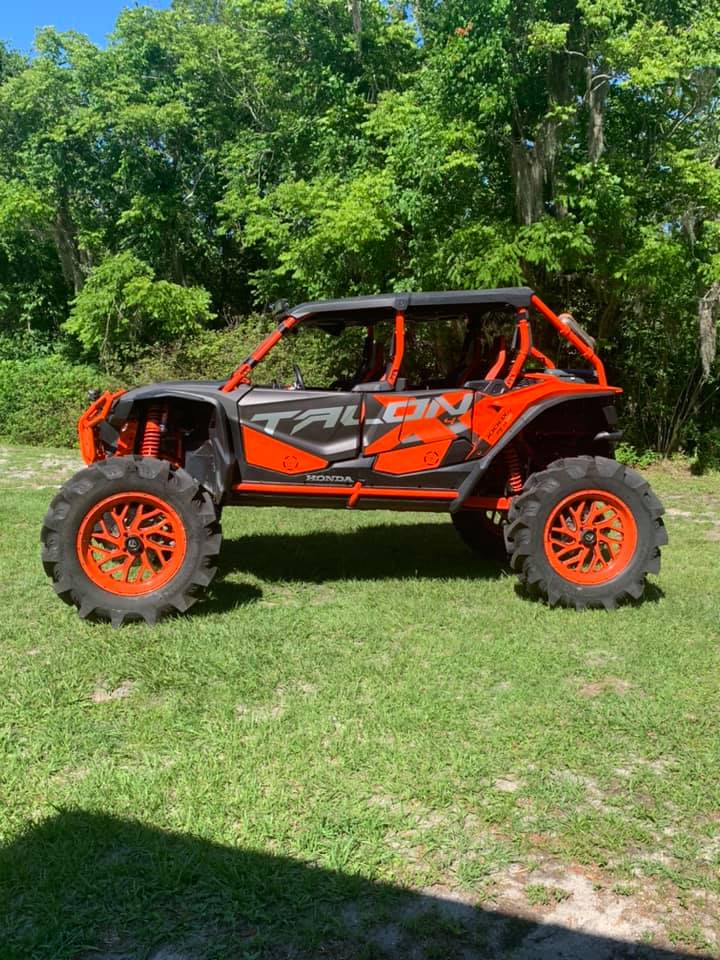 Although it's a bit pricey, lifting your Honda Talon or Honda Pioneer with long arm kits or adjustable shocks will give ground clearance as well as the ability to run bigger tires without sacrificing your vehicle's ride quality. The TTC long arm kit, for example, can cleanly clear 35" tires without the need for things like wheel spacers. Although you might need to swap out your factory axles if you own a Limited Edition Honda Talon, you can use the TTC long arm kit with stock shocks -- a definite benefit for off-roaders on a budget.
Like long arm kits, adjustable aftermarket shocks like those by Elka, Fox, and others can also be used to lift your Honda UTV. And in addition to giving you more ground clearance, adjustable Honda Talon / Honda Pioneer shocks / springs can also provide you with more travel to absorb harder hits, better rebound for a softer ride, and variable compression so that you can optimize your suspension for the terrain type you're riding on.
Spacer lifts and shock pucks for the Honda Talon / Honda Pioneer are solid options for those who are content with their existing suspension setup. But regardless of whether you install spring spacers or simply lower the nuts on your vehicle's shock body to achieve similar results, this type of lift will limit shock travel and stiffen your ride -- although not as much as a bracket lift would.
Honda UTV Portal Gear Lifts
A popular lift style for Honda UTV owners who need added torque to spin larger tires is a portal gear lift. With Honda Pioneer or Honda Talon portals, you can not only achieve an extra 2 inches, 4 inches, or 6 inches of lift, but also a substantial gear reduction to keep you moving in frame-high mud. Although portal boxes for the Honda Talon and Honda Pioneer will reduce your vehicle's top speed, they bring other benefits to the table such as reliability, robustness, and the preservation of your machine's drivetrain geometry.
Honda UTV Lift Kit Alternatives
In addition to forward and high-clearance a-arms, accessories like wheel spacers can also be used to fit bigger tires on a Honda Talon or Honda Pioneer. Wheel spacers, however, aren't without their disadvantages. When you move the weight of your tires outwards by a few inches, you'll also affect the suspension. The fulcrum effect makes your shocks and springs work outside their design parameters, which might negatively affect your ride. On top of that, wheel spacers might also cause a little premature wear on components like the wheel bearings. That being said, if you're not racing your rig, you'll likely be fine with a set of 1", 1.5", or 2" wheel spacers. And if you use them in conjunction with a lift kit, you'll widen your side-by-side's wheelbase and negate the tippy / top-heaviness brought about by a higher center of gravity.
Closing Thoughts On Honda UTV Lift Kits
The right lift kit for you and your machine will depend on the aggressiveness of your riding style, the type of terrain you most frequently traverse, and your willingness to conduct repairs. A person who rides forest roads will want something different than a rider who often encounters deep and challenging creek crossings. And someone who uses their machine to crawl / climb will require a different lift than someone who treats their rig like a display piece. But regardless of whether you're interested in the 3" bracket lift by Rough Country for your Honda Pioneer 500, or the 4" GDP portal gear lift by SuperATV for your Honda Talon 1000 R, you're sure to find an appropriate Honda UTV lift kit for both your machine as well as your riding needs here at Everything Honda Offroad!