Honda UTV Rear View And Side Mirrors: Which Ones Are Worth Considering?
Oct 15th 2021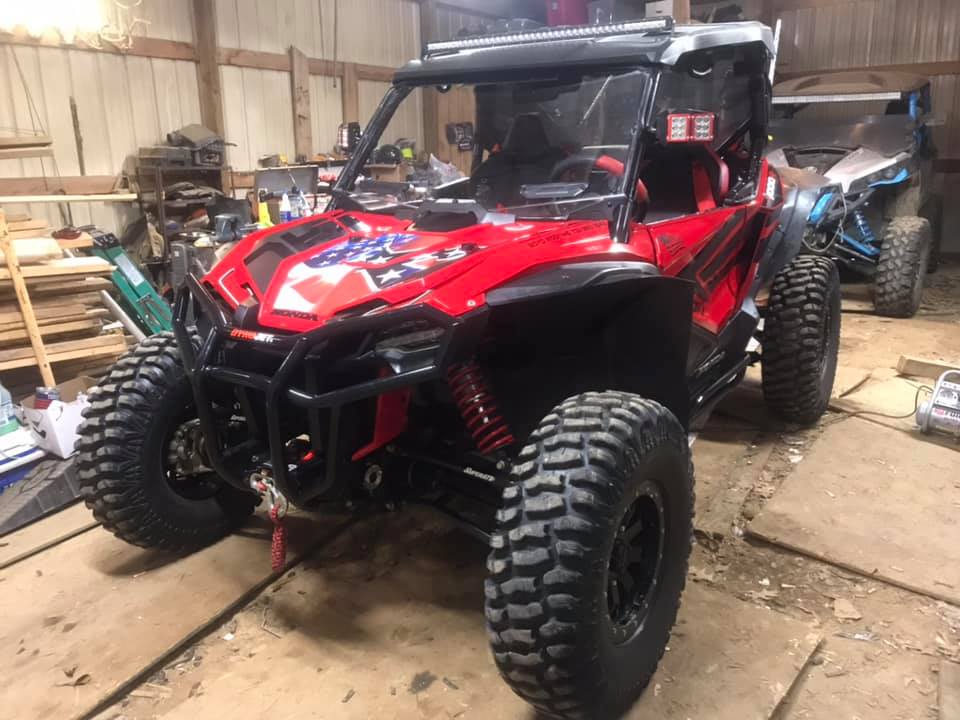 Be it a set of Honda Pioneer wing mirrors for your P-700 or a Honda Talon rear vision mirror for your 2021 Talon X4, there are multiple reasons to equip your rig with at least one side-by-side mirror. An obvious reason to invest in a Honda UTV mirror kit is to increase safety. Mirrors grant both the driver and the front passenger a wider range of visibility, which not only reduces (or outright eliminates) blind spots, but also makes users more aware of their surroundings. Some Honda UTV owners go with backup cameras in lieu of mirrors, while others opt for entire Honda Pioneer / Honda Talon street legal kits that include mirrors as well as things like horns, license plate brackets, and turn signals. But regardless of whether you're wanting some breakaway Honda Talon side mirrors to use when you're leading an off-road convoy, or a Honda Pioneer rear view mirror to help you monitor the contents of your bed or trailer, there are several attributes that differentiate quality Honda UTV mirrors from sub-par Honda UTV mirrors. In this article, we're going to discuss these attributes to determine which brands of side-by-side mirrors are even worth considering!
What Makes A Good Honda Talon / Honda Pioneer Mirror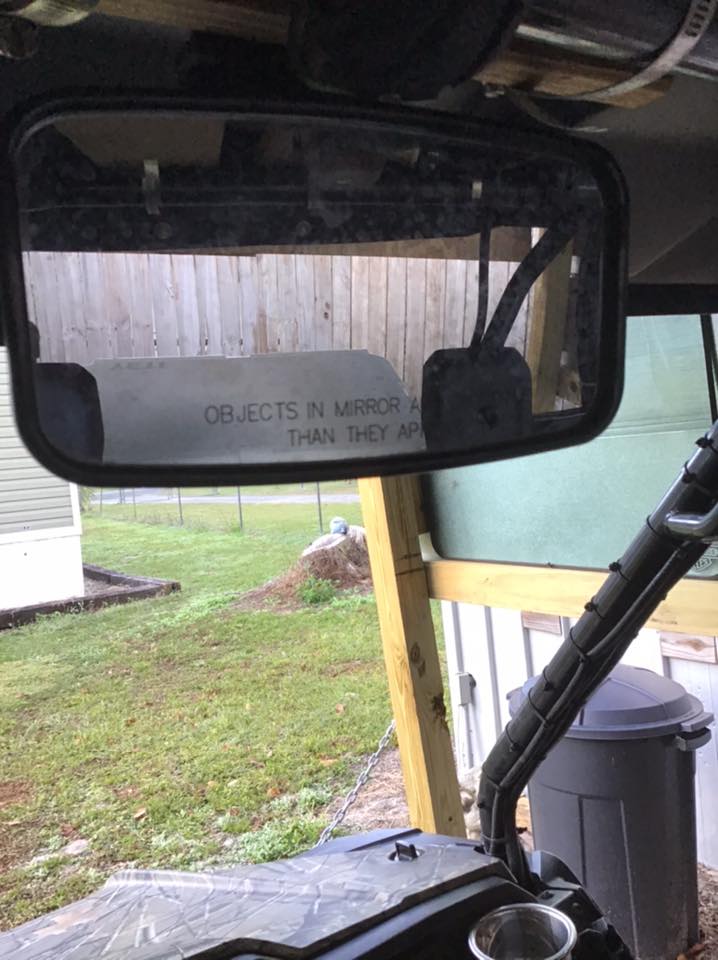 Most mirrors for the Honda Talon and Honda Pioneer will provide a minimum level of assistance, and installing a shoddy UTV mirror is better than installing no UTV mirror at all. Some riders might begrudgingly run mirrors out of necessity, as most street-legal regulations -- and even some ORV parks -- mandate the use of mirrors. But even if you don't intend to use your mirrors, you don't want to install a mirror kit that'll detract from your riding experience.
One such phenomenon that is sure to become annoying, disturbing, or downright distracting is the chatter and clatter of a vibrating mirror. As such, it is important to get mirrors with proper mounts that are designed for off-road applications. While you might be tempted to use a car mirror, a bicycle mirror, or even a household mirror on your side-by-side, these options are ineffective and short-lived. So if you don't want your mirrors to bounce around and rattle against your cage, the right mirror mounts, brackets, and clamps will make a night-and-day difference!
Another key feature of quality UTV mirrors is adjustability. You want a mirror that can be angled in a way that provides maximum coverage, but you don't want a mirror that'll deviate from its set position. Reaching this balance between flexibility and rigidity is delicate, but it's something that the leading side-by-side mirror manufacturers have been able to achieve!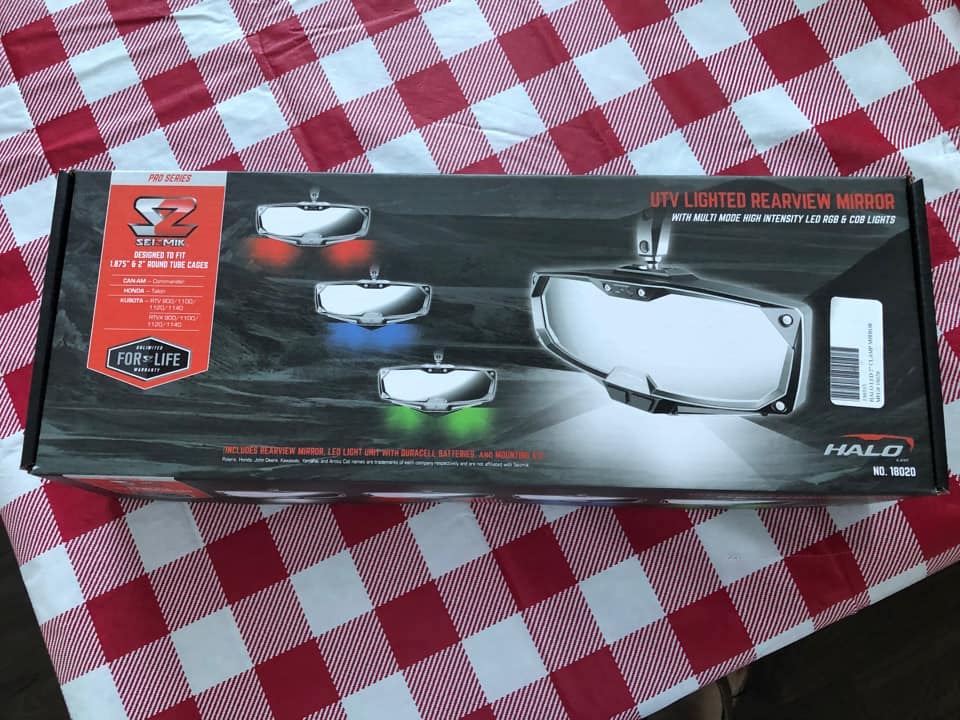 Standard Honda Talon and Honda Pioneer mirrors are fine for everyday applications, but some riders like to kill several birds with a single stone by getting multi-purpose UTV mirrors. A handful of aftermarket mirrors for Honda UTVs come with built-in lights, which provides users with excellent in-cab visibility with lighted rear view mirrors, and supplementary visibility to the front and sides of the machine with lighted side mirrors. Strength and durability are important, but if you're going to install some mirrors on your buggy, why not get as much out of them as possible?
For added robustness and shatter resistance, some manufactures construct the reflective surface of their UTV mirrors using Acrylic. Others off-road mirror makers use tempered safety glass that is also strong, reliable, and shatterproof. While neither material is better than the other in all circumstances, one important thing to consider is glare. Anti-glare mirrors are great when riding in situations where other vehicles are shining their headlights behind you. But if you're deep in the thick of things with no other light source than your own machine, the added advantages of anti-glare side-by-side mirrors might fall short.
The Best Rear View Mirrors For The Honda Talon And Honda Pioneer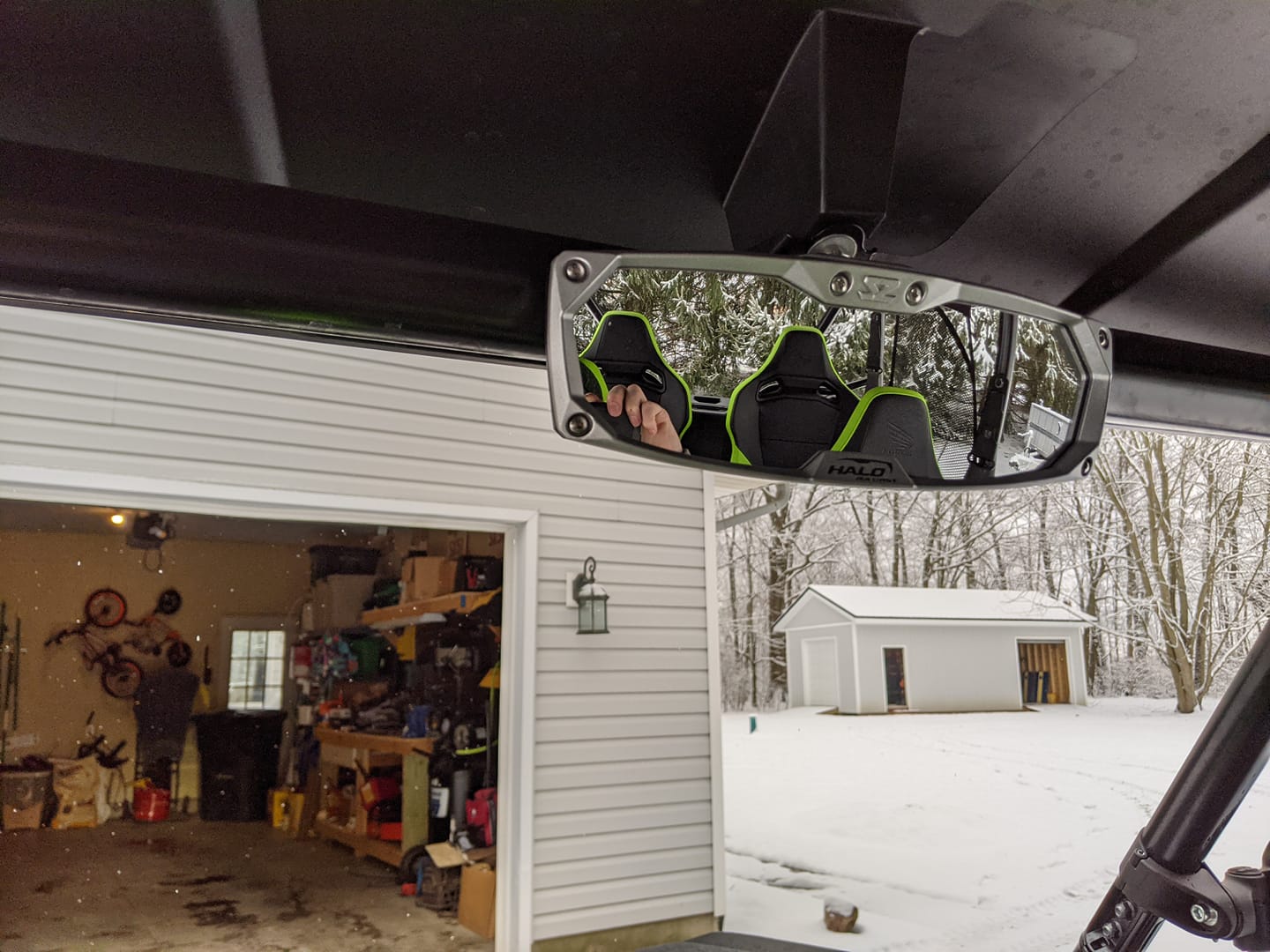 Off-Road firms like Kolpin Powersports, Moose, and ATV TEK all make fantastic rear view mirrors for the Honda Talon and Honda Pioneer. Some rear view mirrors can be mounted to your glass windshield using a suction cup, while other rear view mirrors clamp onto the vehicle's upper horizontal roll bar.
A typical rear view mirror will be convex to project a wider viewing angle, but flat rear view mirrors and multi-panel rear view mirrors can provide similar visibility without any distortion. For maximum coverage, however, the best option is a panoramic rear view mirror like the ones by Extreme Metal Products.
Aside from delivering a rearward line of sight, some rear view mirrors also double as a dome light. The Halo mirror by Seizmik, for example, includes an integrated map light that can be turned on and off with the push of a button. Unlike your standard Honda UTV dome lights, however, the programmable RGBs on the lower section of Seizmik's Halo mirrors can emit several different colors of light. You can set it to white light when maximum brightness is required, then switch it over to red or green light when you want to go into sneak mode!
The Best Side Mirrors For The Honda Talon And Honda Pioneer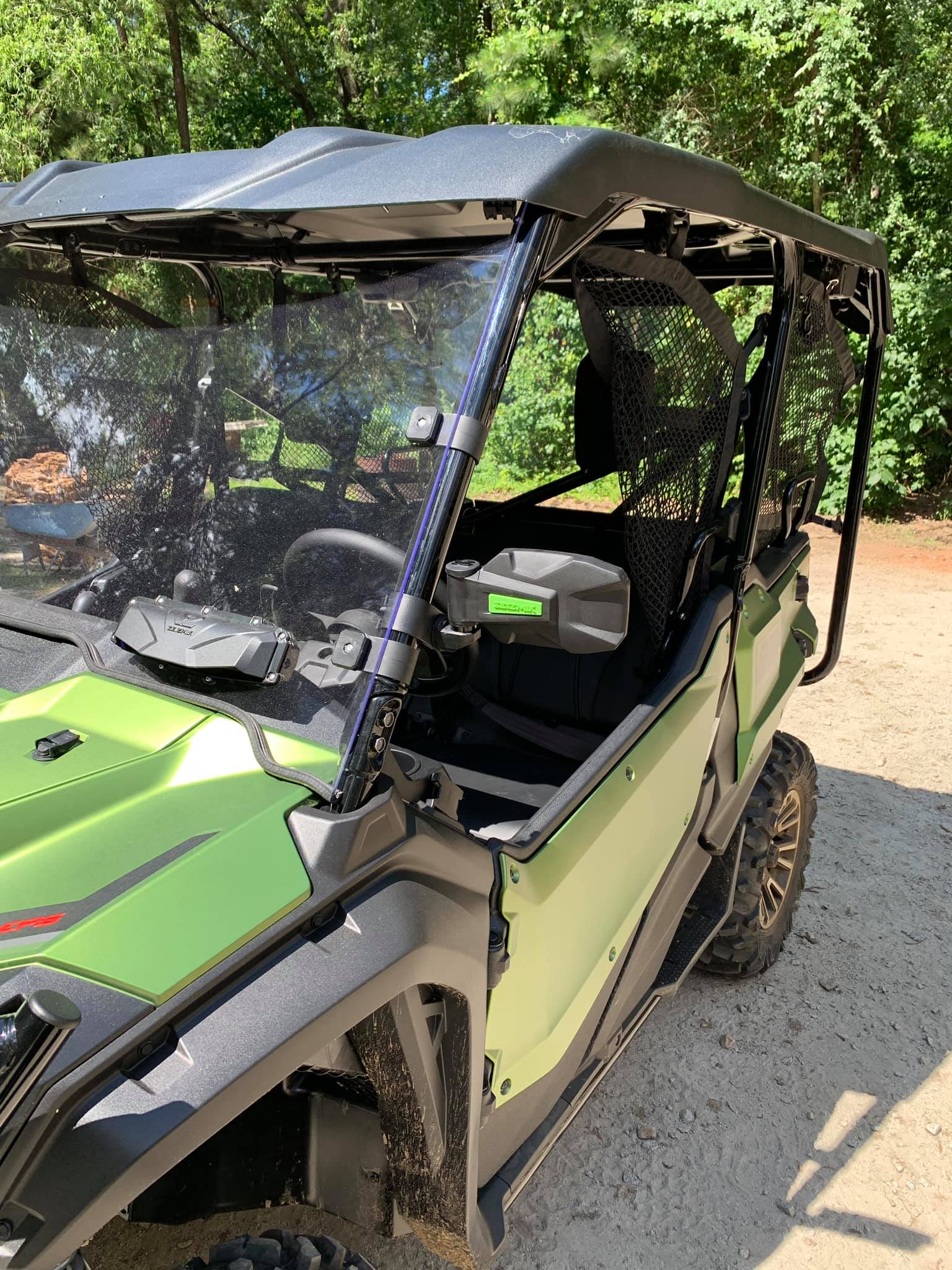 Because lane changing, tight parking restrictions, and congested roadways aren't typically involved with off-road driving, one might assume that a rear view mirror alone is sufficient. In many cases this is true. But there are several situations where having side mirrors on your Honda UTV is advantageous. Backing up is one such situation, and if you add things like tow-behind trailers to the mix, reversing alone might be reason enough to run side mirrors. Additionally, you might use the bed or back seat of your UTV to store cargo and supplies, and if you keep on packin' and stackin', you'll eventually block the rearward view that an in-cab mirror would otherwise provide.
An additional reason to install Honda UTV side mirrors is for supplementary illumination. Like rear view mirrors, many side mirrors for the Honda Talon and Honda Pioneer also come with built-in LEDs. Lighted side mirrors like the ones by Xprite and Seizmik are terrific when cornering, but they'll also augment / widen the angle of your headlights on straightaways, enabling you to see trees, rocks, animals, and other roadside hazards before it's too late to react.
In Summary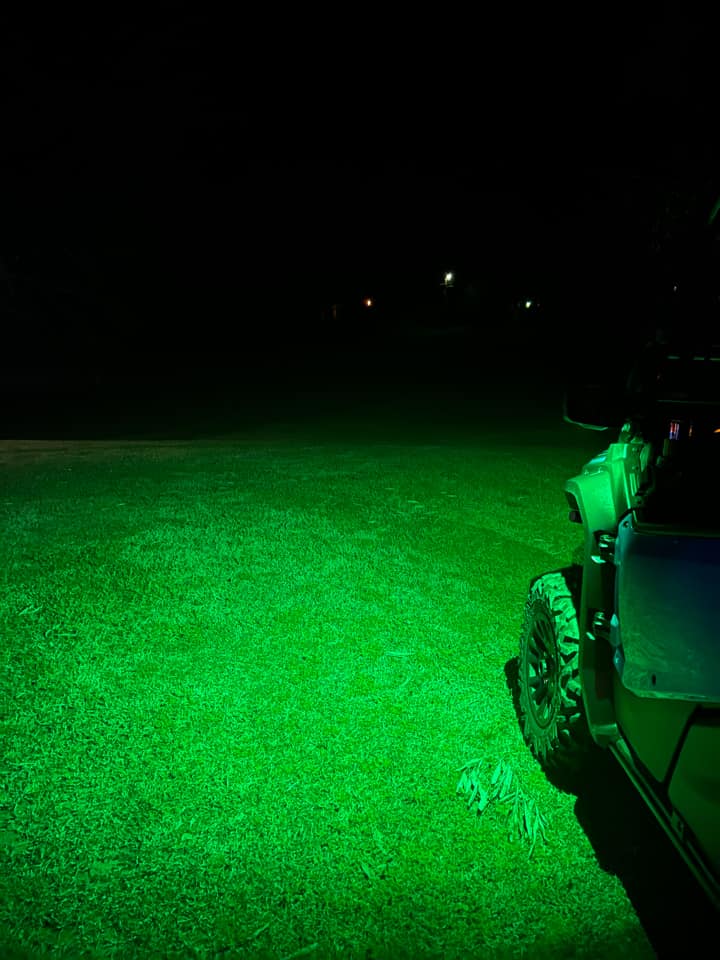 Even though modern pieces of technology like backup cameras might eventually replace the need for mirrors, these tired-and-true solutions are still integral for everything from safety to convenience. If you don't mind turning your head like an owl to view your surroundings, you might not require a Honda UTV mirror. But because they're inexpensive, helpful, and easy to install, why would you not install a few mirrors on your Honda side-by-side?