Leading The Charge With Rough Country Honda UTV Accessories
Sep 14th 2020
With bolt-on accessories, exterior lighting kits, and a multitude of other aftermarket upgrades for the Honda Talon and Honda Pioneer, the off-road part maker Rough Country has officially joined on as a premier partner of Everything Honda Offorad! Whether you've got the Honda Talon, the Honda Pioneer, or a Honda quad like the Rincon, Foreman, or Rancher, Rough Country has a number of accessories to augment the performance, look, and ride quality of your off-road vehicle. Through years of dedication and commitment in the powersports world, Rough Country has built their well-deserved reputation from the ground up. And it is both a pleasure and a privilege to be a part of their organization as one of the select retailers allowed to bring their products to the wider world. But what exactly can Rough Country offer you? Well, let's find out!
Rough Country's 3" Lift For The Honda Pioneer
Rough Country has recently come out with their Honda Pioneer lift kits to challenge the incumbent players like Highlifter and SuperATV. As far as price goes, the Rough Country lift kit is far cheaper than the competition. Though some riders will argue that these and similar lift kits reduce the plushness of the UTV and cause their shocks to fail prematurely, most riders find the difference in ride quality to be negligible and the wear on the shocks to be nonexistent.
As a bit of advice for those who live in hotter climates, the instructions for Rough Country's Honda Pioneer lift kit as well as other lifts say to remove the plastic heat shield from behind the radiator. But if you want to continue to deflect heat away from the shifter holes, you can add this panel back to the crossmembers using zip ties after the lift bracket has been installed.
Honda Pioneer Rough Country Heaters
For cold-weather riders, heating units are almost essential. And with an output of 16,000 British Thermal Units, Rough Country's Honda Pioneer heater won't struggle to deliver the warmth that you demand on the coldest of winter days.
Compared to the price of factory Honda heaters, the Rough Country Honda Pioneer hidden fan heater is a steal of a deal. While bilge blowers under the seat can help to bring heat into your rig's cab, Rough Country heaters have the added benefit of a defroster, which will keep your windshield clear, transparent, and fog free!
Rough Country's Light Offerings For The Honda Talon And Pioneer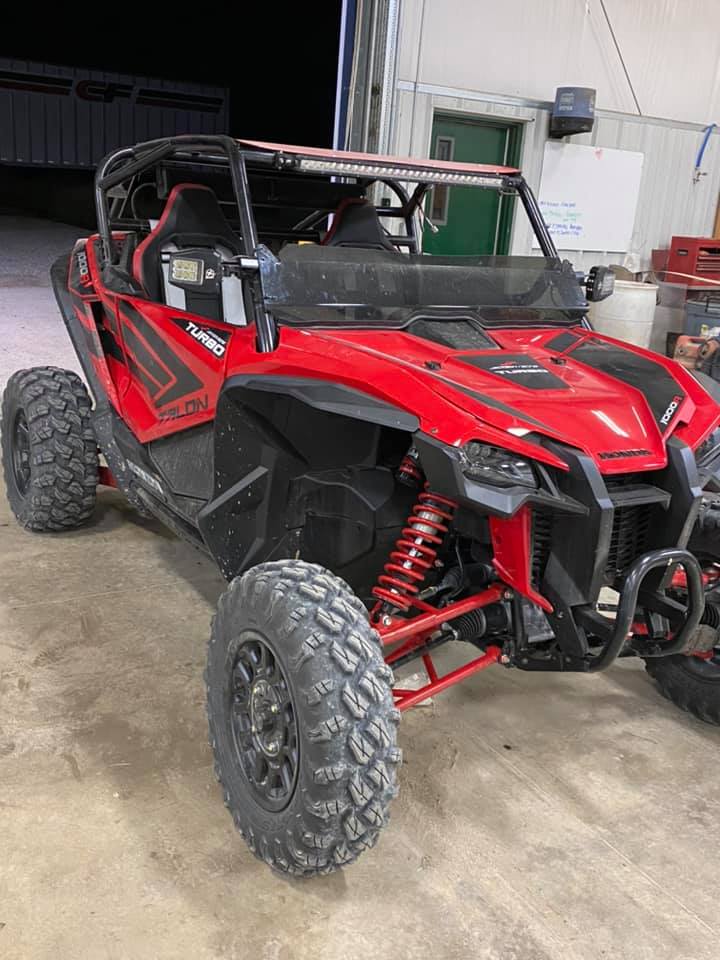 From lower windshield single-row Honda Pioneer light bars to front bumper panels with built in LEDs, illuminating your way forward has never been easier! And for those that need some added visibility when reversing, Rough Country also offers rear light bars for the Honda Pioneer and Honda Talon. With one of Rough Country's many great UTV light accessories, darkness will never be an issue!
Miscellaneous Rough Country Accessories
Many of Rough Country's Honda-specific accessories are made for either the Honda Talon or the Honda Pioneer. However they also offer a wide range of accessories that can work in other UTVs and even on-road vehicles as well. Their grab handles are a good example of this, which work just as well in Jeeps and pickups as they do in Honda UTVs. And while Rough Country does have winch mounting plates specifically for the Honda Talon, they also offer winches and winch accessories that can be used on everything from side-by-sides and four-wheelers to trucks and tractors!
Final Thoughts
There are many great companies out there that make aftermarket parts and accessories for the Honda Talon and the Honda Pioneer -- each of which having its own strengths and weaknesses. But irrespective of whether you own the Honda Talon 1000 R or the Honda Pioneer 500, you won't be disappointed with any of the products by Rough Country!