​Buyers Guide: Best Windshields for the Honda Talon and Honda Pioneer
Nov 30th 2022
Using a windshield when riding a Honda Talon or Honda Pioneer is almost always a better option than not using one. But the wrong windshield for the wrong environment can prove problematic at best, and catastrophic at worst. A full glass windshield, for example, may make the cockpit of your side-by-side hot in the summer heat, but it can also get covered with mud and cause visibility issues if you aren't also using some off-road windshield wipers. Conversely, half windshields are great for hot and muddy situations, but when the temperatures drop, the protection they provide against cold air and rain is negligible. All-weather folding windshields (as well as windshields with built-in vents) are more versatile, but even these aren't 100% suitable for all circumstances. So which windshield should you choose for your Honda side-by-side? Let's get down to the nitty gritty and find out!
Glass Windshields Vs. Polycarbonate Windshields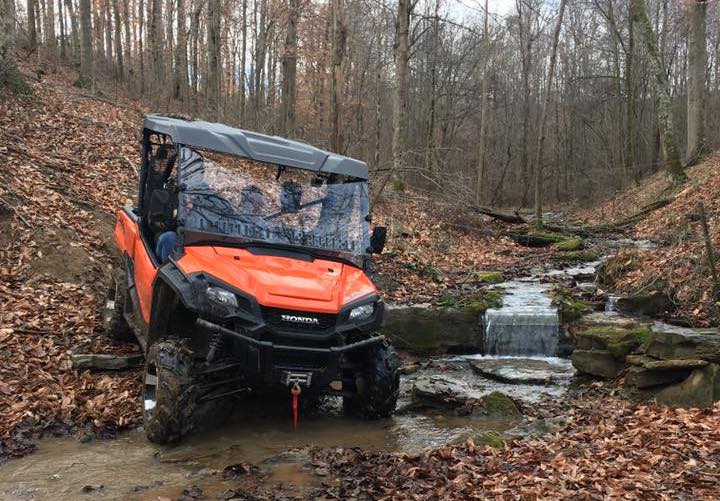 Where price is concerned, poly windshields for Honda UTVs are usually less expensive than their glass counterparts. And where quality is concerned, it really depends on where and when you ride. As we mentioned earlier, un-vented glass windshields can make things incredibly hot in the cabin during the summer months, and the outside temperatures are only exacerbated by the incoming radiator heat that seeps in through the dash and shifter tunnel. Those who ride in groups have learned the hard way that glass windshields are susceptible to rock chips -- which start small, and develop into large crack if left unfixed.
Aside from being colder than glass windshields in the wintertime, another drawback of running a polycarbonate windshield is that it can get scratched. Even hard-coated and scratch-resistant polycarbonate windshields aren't completely impervious to scratches, and the biggest no-no regarding poly windshields is improper cleaning. You should limit how much you clean your polycarbonate windshield while riding, making sure to use a microfiber cloth and ample amounts of Plexus when you do clean it on the trail. Furthermore, it's important to wipe lightly, and only in an up-and-down direction when cleaning a poly windshield. If you wipe in a circular movement, you'll eventually get spiraled abrasions that refract light and cause visibility issues when you're driving into the sun.
Weight is another factor to consider when deliberating between glass windshields and polycarbonate windshields for your Honda side-by-side. Poly windshields are pretty light, while glass windshields are on the heavier side. DOT windshields made from laminated / tempered safety glass are even heavier -- especially those with thick metal frames.
UTVZILLA makes a good full glass windshield with wipers for the Honda Talon, while the SuperATV full glass windshield for the Honda Pioneer is another quality choice. It should be noted, however, that the SuperATV glass windshield only includes a wiper for the driver side, but a second one can be added to the passenger side if you deem it necessary.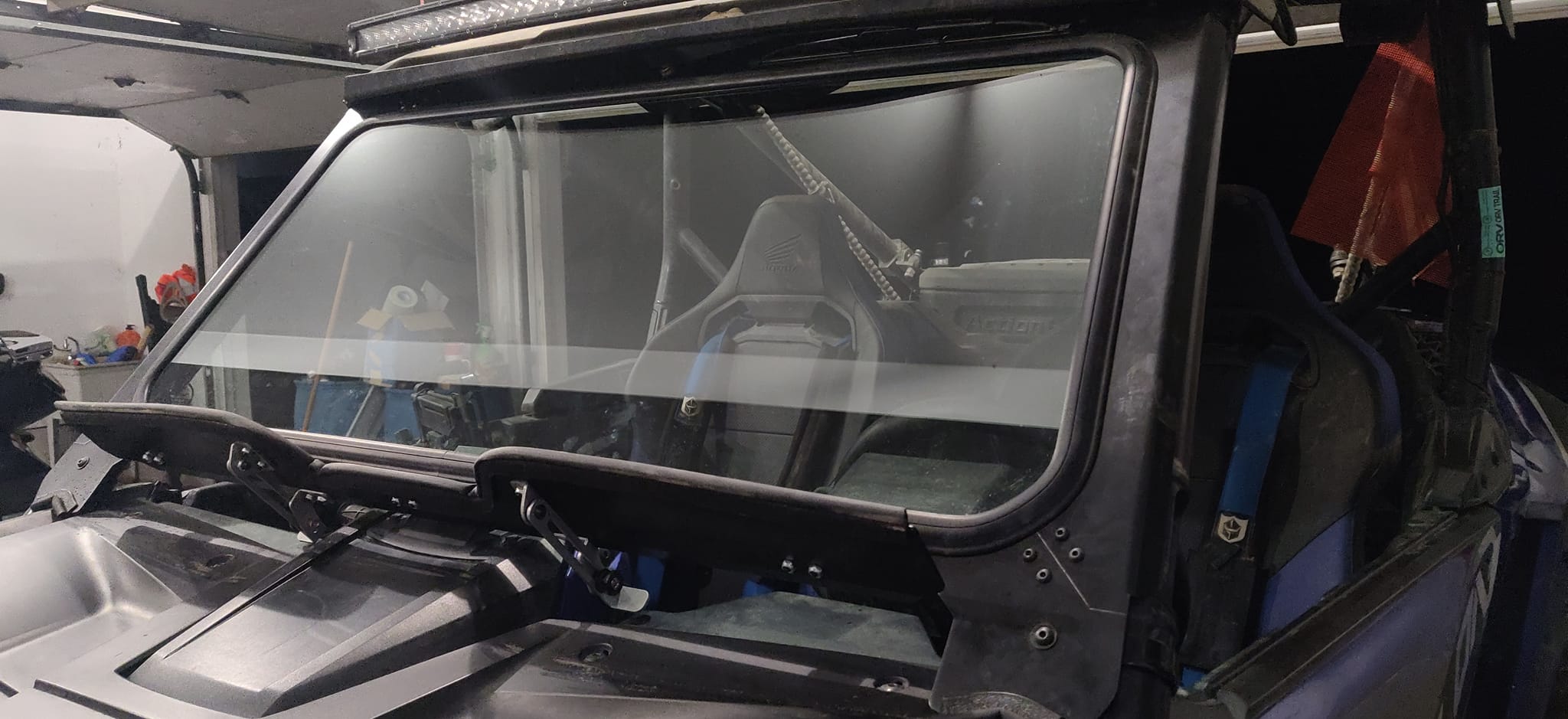 Many riders have commented how they love the large vents on UTVZILLA windshields, as the entire bottom opens up for ample amounts of airflow. UTVZILLA windshields also come with manual windshield wipers, but you can easily modify them with power wiper setups from companies like Kemimoto if you choose. The slim aluminum frame of a UTVZILLA windshield is another factor that sets it apart from the competition. It's lightweight, it won't rust, and it will not obstruct your field of view in a noticeable way!
With full glass windshields, fog will often prove problematic. Even when using a heater with defroster vents, your windshield may still fog up. So instead of driving with the door wide open until the windshield clears up, a little Rain-X defogger will work wonders!
Full Windshields Vs Half Windshields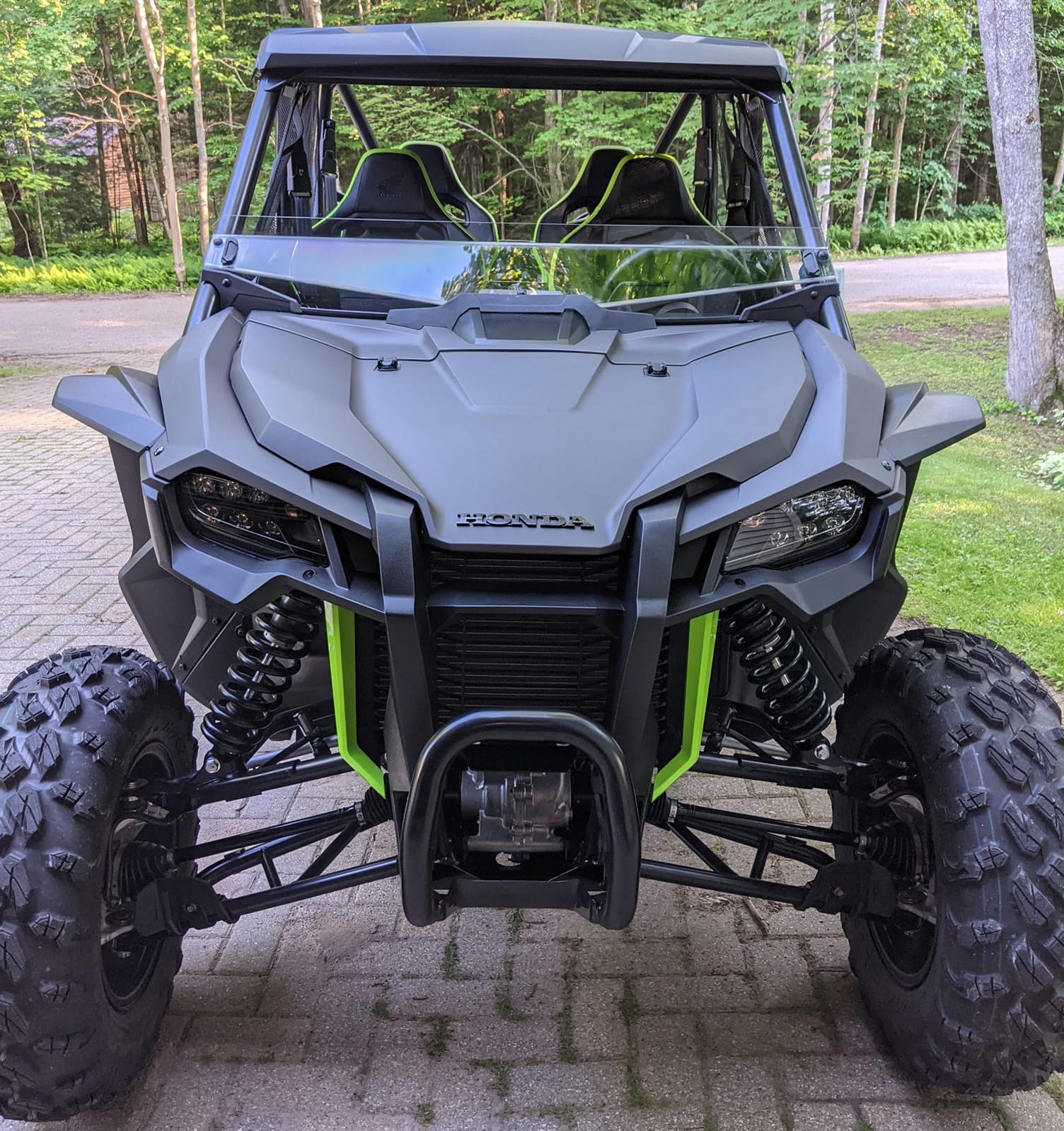 Unless you get cold easily, half windshields for the Honda Pioneer and Honda Talon are pretty practical. They do a good job at blocking wind, and will even stop a fair amount of water and mud from getting into the cabin. Plus, when it does get caked with thick layers of mud, you'll still have the ability to see overtop your half windshield so that you can pick the best line out of the mud hole you're barreling through!
Although they are rather obvious, it is worth mentioning the limitations of half windshields. They can keep the wind off of your hands and face while riding in the cold, but other than that, they won't do much to keep you warm. And when it starts to rain when you're riding, a half windshield won't grant you the same coverage as full windshields do.
Folding Windshields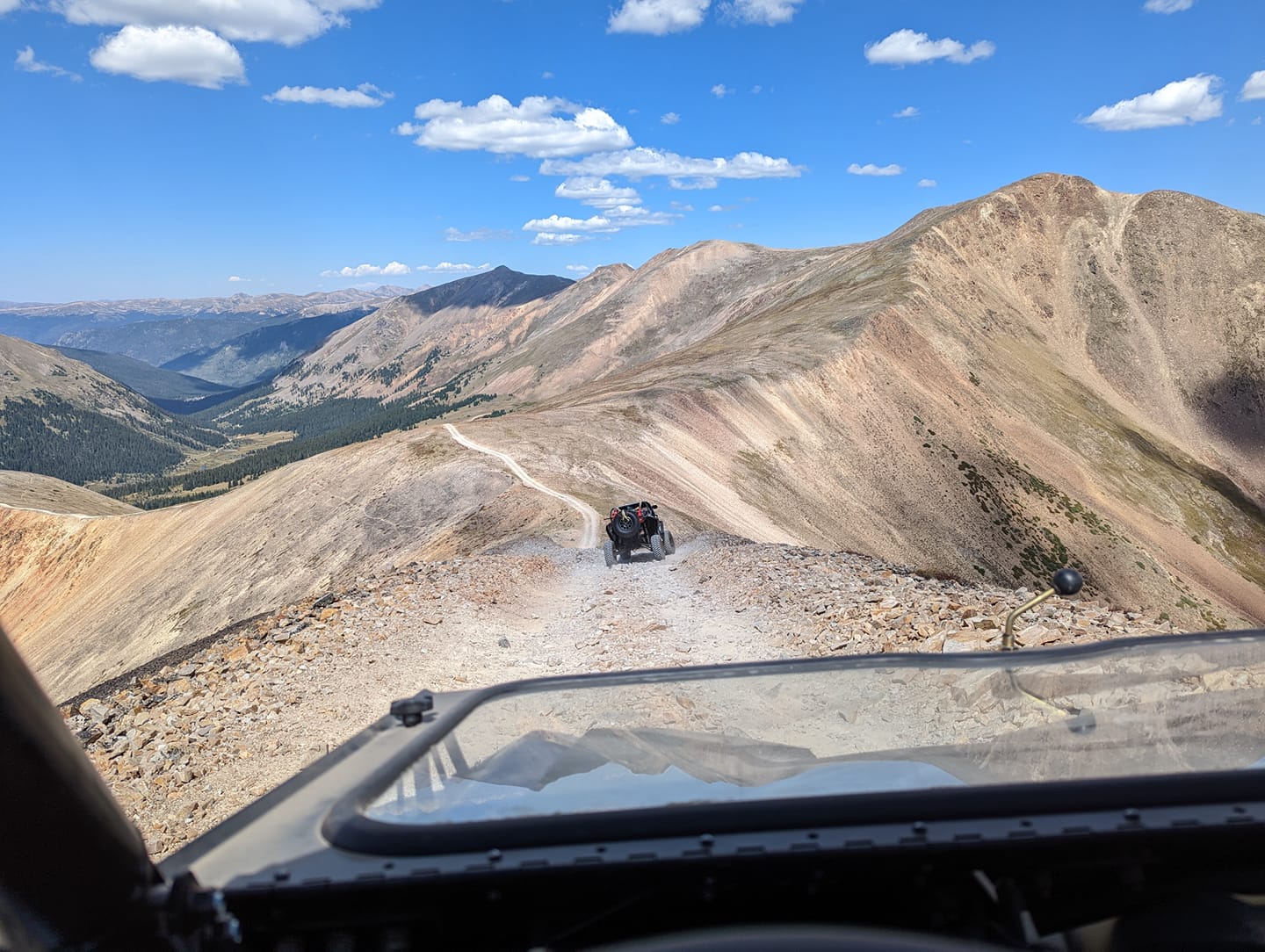 The best of both worlds is a folding windshield. And within the category of folding windshields, you've got fold-down windshields that lie flat on the vehicle's hood, flip-up windshields that can be propped open with gas shocks, and tip-out windshields that crack open at either the top or bottom end.
The scratch-resistant folding windshield by SuperATV is a popular product as it grants users a range of configurations. You can open it fully, close it fully, or have it opened just slightly to get just a hint of fresh air. Plus, you can even close down or open up the SuperATV windshield on-the-fly while driving!
Tusk folding windshields for the Honda Talon and Pioneer are also popular among riders. You can put them down on hot days, or remove them entirely in less than 3 minutes. The folding glass windshield by Tusk lays down flat on the hood of the vehicle, and it includes standoffs that you can install to prevent damage to both the windshield as well as the hood.
Rear Windshields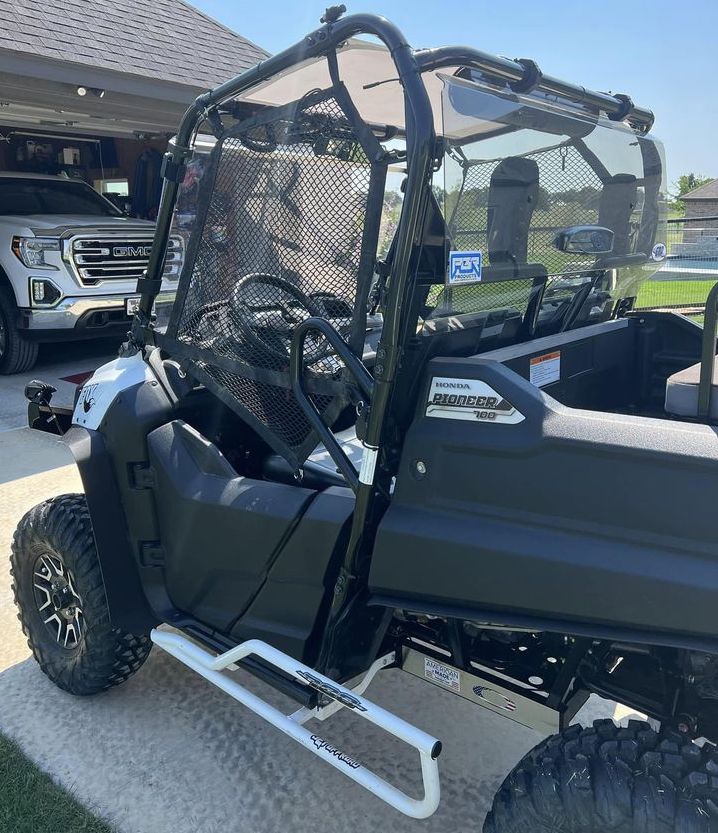 If you want to fully enclose your cabin, rear windscreens for the Honda Pioneer and Honda Talon are great! However, if you're wanting to install a back UTV panel for dust prevention, you might actually be causing more harm than good. Without a full cab enclosure, a rear windshield will create pressure asymmetries that suck in dust and dirt from the sides. So while back glass or polycarbonate windshields are great for trapping in heat, they aren't optimal for keeping airborne particles at bay!