​Snow Tracks & All-Terrain Tracks For The Honda Talon / Pioneer
Sep 28th 2022
UTV tracks aren't for everyone, as they're quite pricey and restrict what you can and cannot do in your 4x4. But for those with a need for them, snow tracks and all-terrain tracks for the Honda Talon and Pioneer are absolute monsters! Their drawbacks notwithstanding, the benefits that UTV tracks provide make them amazingly functional in some areas and climates, without which no riding could be done at all – at least not in a UTV. So if you're on the fence about getting tracks and want some further info before pulling the trigger, here is what you need to know about snow tracks and all-terrain tracks for the Honda Pioneer and Honda Pioneer!
Benefits Of Honda Pioneer / Honda Talon Tracks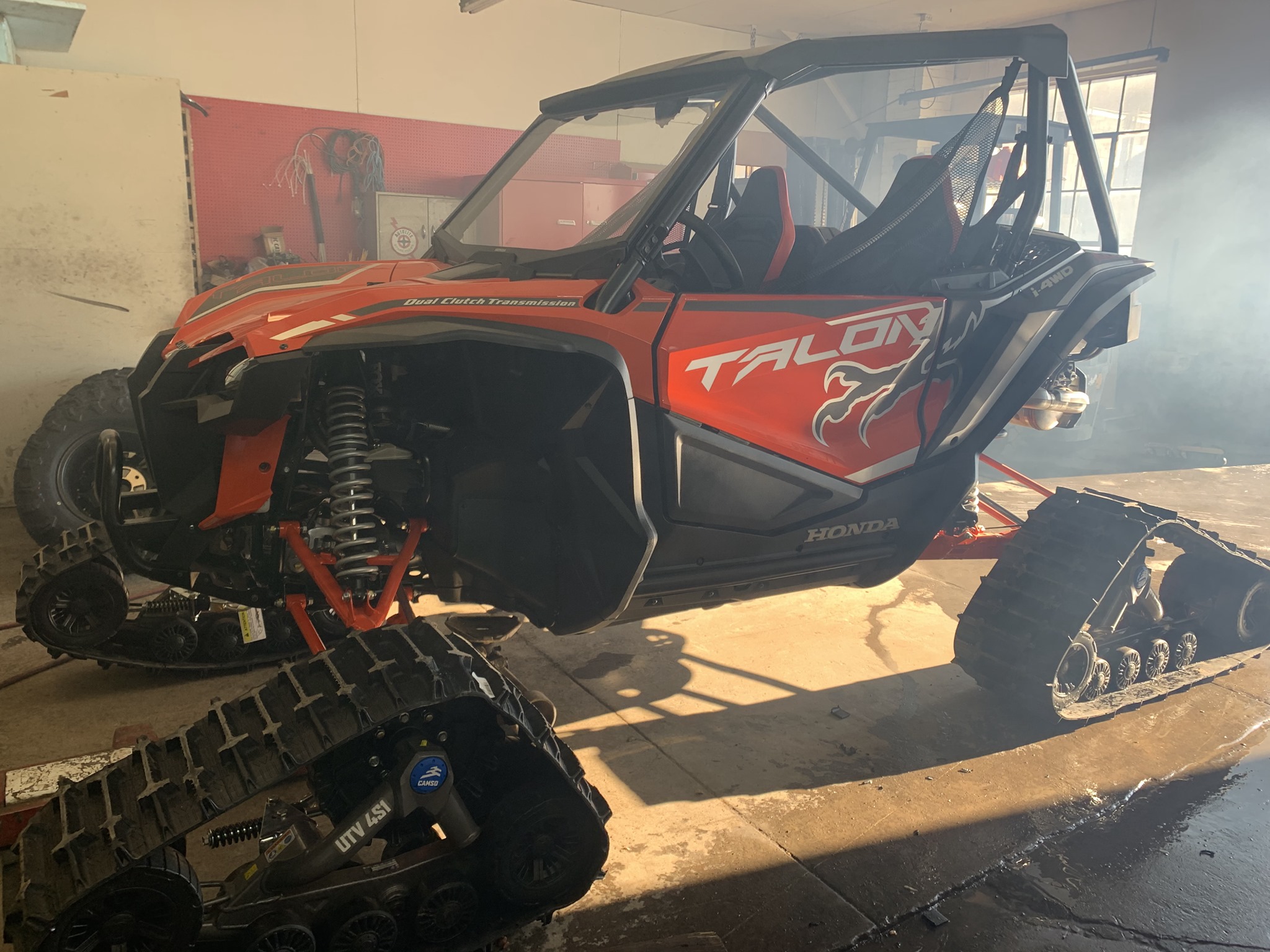 The advantages that come from running UTV snow tracks are pretty obvious – your bike will go pretty much wherever you want it to! No tires or lift kit could ever match up to driving a tank around, and if you're plowing snow or headed to the lake for some ice fishing / sturgeon spearing, a UTV on tracks is the ultimate high-torque utility vehicle!
While you might assume that users must run in low and 4-wheel drive all the time with tracks installed to avoid smoking the clutch, this isn't the case. Because tracks give the machine a huge gear reduction and plenty of torque, your Pioneer / Talon will run fine in turf mode or high gear with tracks installed!
Drawbacks Of Honda Talon / Honda Pioneer Tracks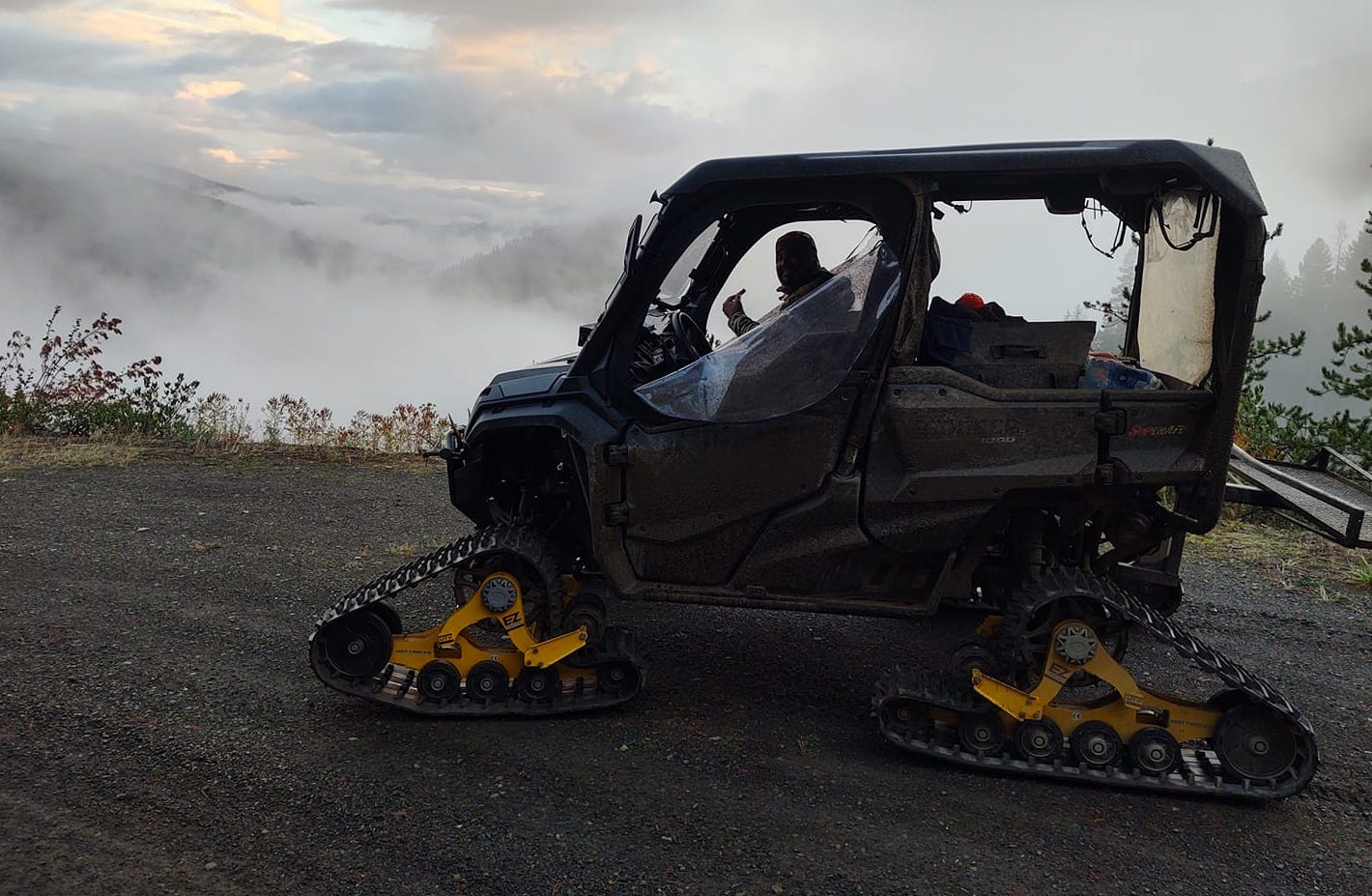 Despite the benefits you'll gain by adding snow tracks or all-terrain tracks to your UTV, there are a few disadvantages that should be thought through before purchasing them. For one, they aren't good for speed. In fact, depending on your setup, installing tracks on your SxS will cut your top speeds in half (or even more). In a Honda Pioneer 700-4, don't expect to go above 25 MPH with tracks installed. And in a Honda Talon 1000X, your top speed with tracks will be around 45 MPH.
Tracks will also throw stuff everywhere, which isn't too terrible if you're riding on hard-pack, but can get real messy if you're riding in dirty slush and mud. Even with extended fender flares, don't expect to stay clean if you're rolling around on tracks. Thankfully, though, most winter riders run full cab enclosures, which is the best way to block all the nasty stuff kicked up by snow tracks!
UTV tracks will also increase your rig's turning radius, making it more difficult to navigate through tight places. And because they use up huge amounts of power, they'll drain your gas tank faster than even the biggest mud tires. Clutch modifications will help your machine handle tracks better, but because they increase the height, width, and length of the vehicle, you might make your rig too big for your garage or enclosed trailer by putting it on tracks!
Although high-flotation SxS tracks are incredibly useful for deep snow, you can still get stuck if you aren't careful. And if you've ever had to dig out a snowmobile, you'll know just how difficult it can be to get a UTV unstuck. Winches will help with this, and products such as ice anchors / wedge anchors will give you something to pull on if there aren't any trees, rocks, or other vehicles in the vicinity.
Best Type Of Tracks For The Honda Talon And Honda Pioneer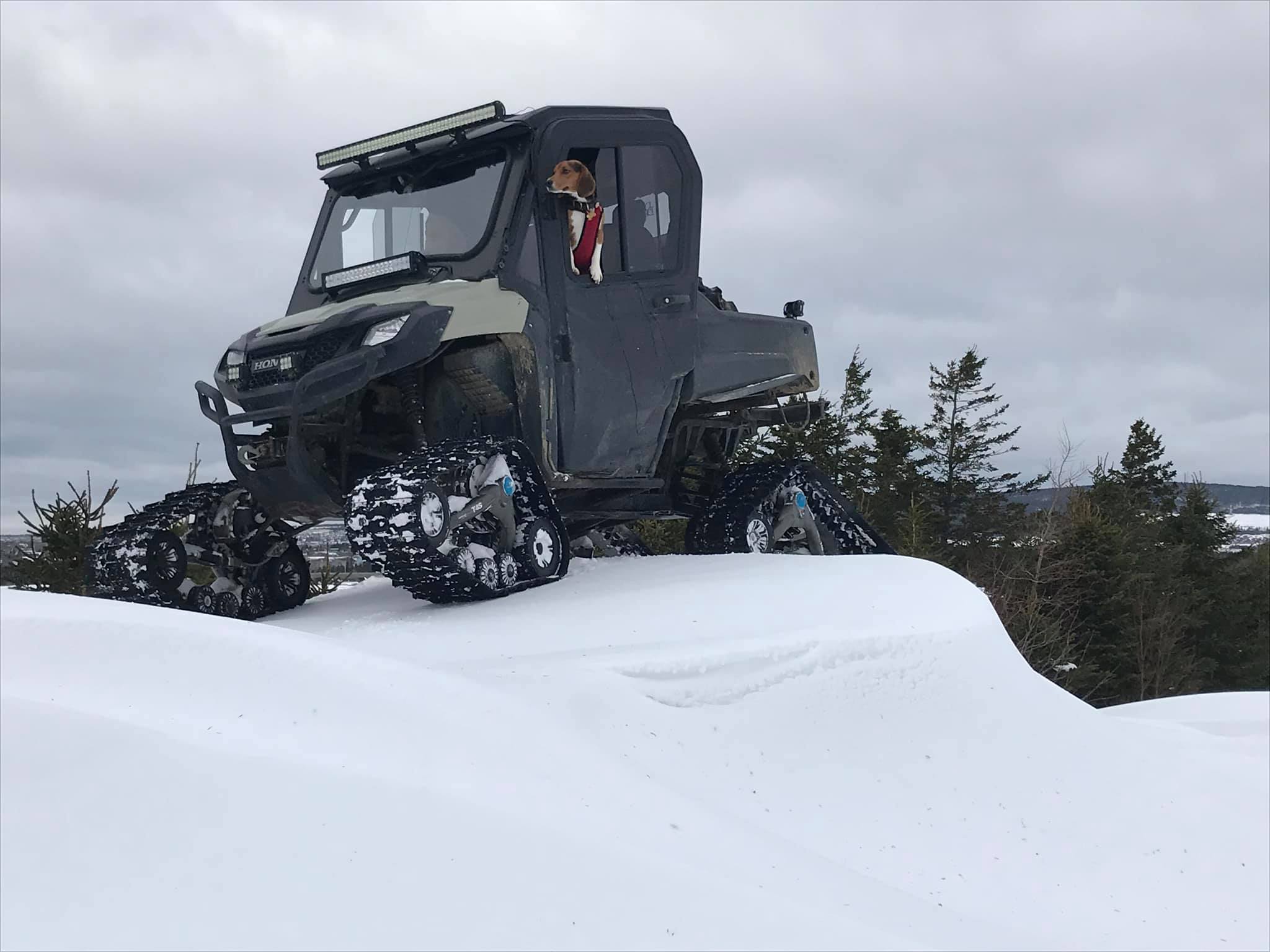 We've heard riders tell tails of not-so-good things about TJD X-Gen tracks, with one even going through two sets of tracks in only 8 miles total. Splitting the track section is a common occurrence with these units, and the frames are known to bend / break as well. The next step up on the track ladder are Mattracks, but they can be hard on the vehicle's spindles and bearings. So if you're after top-of-the-line snow tracks or all-terrain tracks for your SxS, Camso / Camoplast tracks are the most well known and well loved! The 4S1 track setups by Camso (formerly known as Camoplast) are the cream of the crop. And although they might require some permanent alterations to your buggy, they'll make up for that by allowing you to go everywhere your heart desires!
How Big Will Tracks Make My Setup?
Although exact measurements may vary depending on your UTV model and the type of tracks you choose, the standard 13-inch-wide tracks add about 9 inches to each side of the vehicle (not including the adapters needed to mount them). For a 63-inch-wide Honda Pioneer 1000, you should expect no less than an additional 21", making the total machine width around 84". Be it for trailering or storage requirements, these increased height, width, and length measurements shouldn't be overlooked!
Can You Ride A UTV With Tracks On Snowmobile Trails?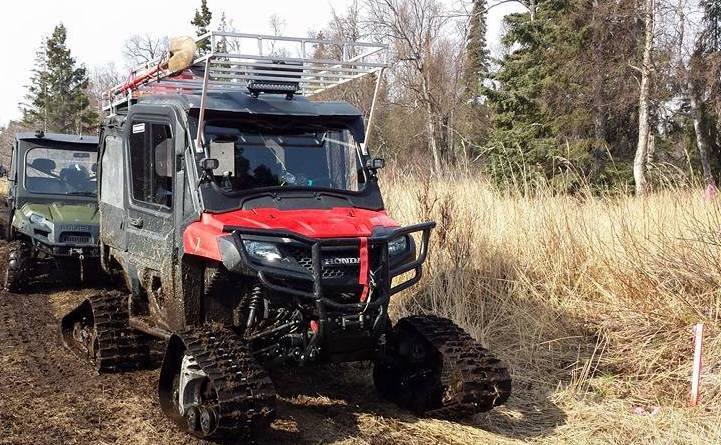 Whether or not you're allowed to run tracked-out side-by-sides on trails designated for snowmobiles is a decision that's made on a state by state basis. In states like New Hampshire, your vehicle has to meet the definition of a snowmobile in terms of width and weight if you want to legally use it on sled trails. In Wisconsin, you're only allowed to ride a Honda Talon / Honda Pioneer with tracks on private land or frozen lakes. In places like Washington, on the other hand, new laws have been passed that allow ATVs and UTVs with tracks on groomed trails, provided that they've got a snowmobile registration!