The Top 3 Best Selling Rough Country Products For The Honda Talon And Honda Pioneer
Oct 29th 2020
With nearly a half century of experience in the automotive industry, the firm Rough Country has had ample time to garner skills, knowledge, and proficiency in both the design and construction of aftermarket powersports products. After breaking into the side-by-side industry, Rough Country has proven that it can do for the Honda Talon and Honda Pioneer what it has done for Jeeps, pickups, and SUVs — and that is to provide high-end parts and accessories at the lowest price point possible.
As a result of their diligence, competence, and cutting-edge innovation, they have amassed a large fanbase of loyal customers over the decades. And although we could speak good words about Rough Country all day long, we'll instead let their products do the talking for us. The company makes dozens of aftermarket accessories for the Honda Talon and Honda Pioneer, but we'll focus on their three most popular products. Based on our metrics, the following are Rough Country's top 3 best-selling accessories for Honda's UTV lineup.
Number 1: Rough Country's Honda Pioneer Heater Kit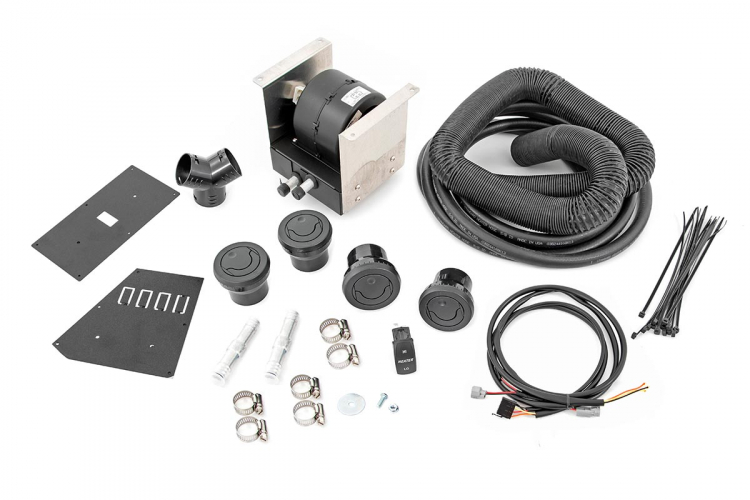 Because the Honda Pioneer is often used as a stalwart workhorse throughout the year, it makes sense that riders often choose to install Rough Country's in-cab heater system. Not only does the kit include everything one needs for a clean and factory-style install — including hoses, duct work, vents, and rocker switches — but with the ability to crank out over 16,000 BTUs, Rough Country's Honda Pioneer heater can also work either with or without a cab enclosure.
One feature of this heater that sets it apart from similar products is its defroster mode. You can aim the louvered vents at your windshield to eliminate frost, fog, and ice, or blast warm air directly at your hands, face, or feet. Regardless of whether you're plowing snow in the dead of winter, traveling to and from your hunting blind in the fall, or getting some early-season rides in before the snow melts in spring, Rough Country's Honda Pioneer heater will keep you cozy, comfortable, and snug as a bug in a rug when the weather outside is frightful!
Number 2: Rough Country's Rear-Facing Lower 20" LED Light Bar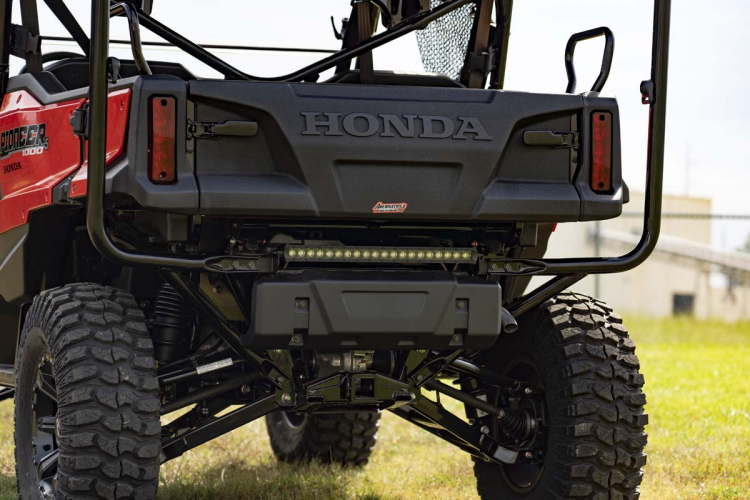 With an output of over 7,000 lumens, a die-cast aluminums housing, and a waterproof design, it's little wonder why the 20" Rough Country light bar is so popular among Honda Pioneer owners. If you've ever had to reverse in the dark, you'll know how treacherous it can be. And when you're being followed by other riders, having a rear chase bar brings increased visibility, and therefore reduces the likelihood of a rear-end collision.
The rear Honda Pioneer light bar by Rough Country mounts just above the muffler, and it comes with everything from fasteners and wire harnesses to in-cab on/off switches. While daytime riding is great, being equipped to ride safely successfully at night is something that every Honda Pioneer owner should do!
Number 3: Rough Country's 3" Honda Pioneer Lift Kit
Rough Country has been manufacturing automotive lift kits, leveling kits, and suspension products since the mid 1970s, so it clearly follows why they would offer lift kits for UTVs as well. And just like their lift kit packages for on-road 4x4s, their Honda Pioneer lift kit is made with a rigor and accuracy that few companies can match.
Unlike other lift kits for the Honda Pioneer, the 3" bracket lift by Rough Country keeps the axles at a good angle so as to not place added stress on the joints. Although you might also need wheel spacers to offset the added height with a wider wheelbase, this is something many riders do regardless of the style of lift they install.
Ending Thoughts
Riders who go with Rough Country products for their Honda UTVs do so in part because of the decades of goodwill that the company has built between itself and its customers. It's one thing to talk the talk, but through their high-quality parts, products, and accessories, Rough Country has demonstrated that they can also walk the walk. While we're not knocking the many other great side-by-side part makers out there, if you're on the fence between a product by one of them or a product by Rough Country, you can't go wrong by choosing the latter!