The Top Three Winches For The Honda Talon And Honda Pioneer
Sep 14th 2021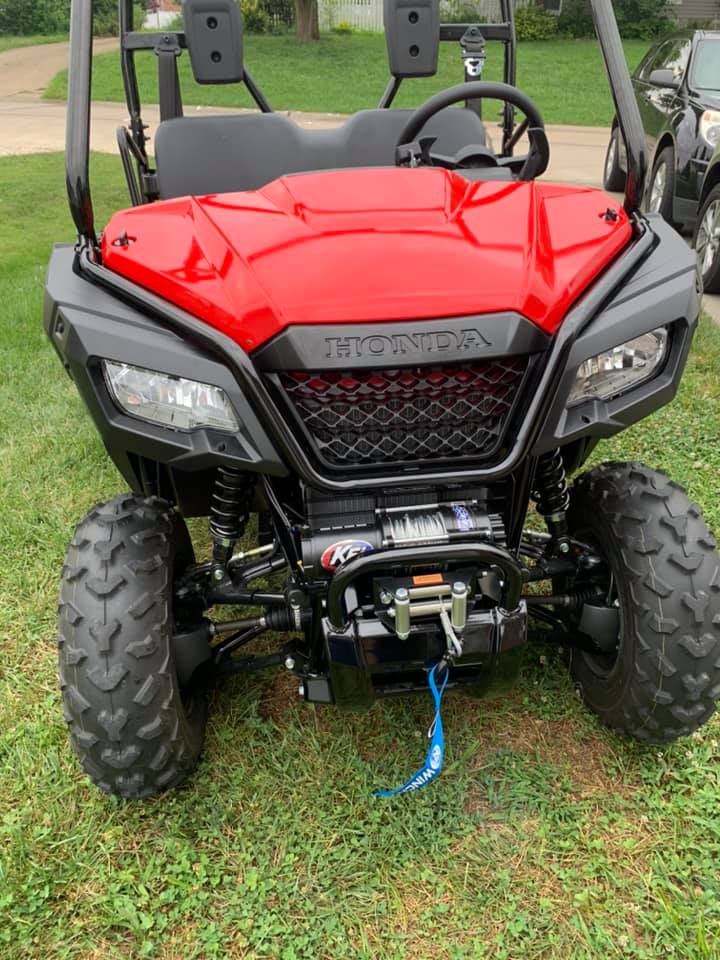 No off-road vehicle is complete without a winch. And even if you never venture deep enough to get mired in the mud, there are numerous ways in which Honda Pioneer winches and Honda Talon winches can be used that have nothing to do with recovery. There's no doubt that UTV winches are essential for getting vehicles unstuck, but you can also use a front Honda Talon winch with a plow system for snow removal, a rear Honda Pioneer winch with a game hoist for hunting-related tasks, or a gas-powered Honda UTV winch for situations where a crazy amount of pulling power is required.
Just like gas side-by-side winches vs electric side-by-side winches, there are pros and cons to 2,500 Lb winches vs 5,000 Lb winches, cable winches vs synthetic winches, and roller fairlead winches vs hawse fairlead winches. With so many options to consider, the paradox of choice might have you in a state of buyer's fatigue. But worry not, because we've been in the off-road game for decades, and over that time, we've learned a thing or two about UTV winches. So sit back, relax, and continue reading to hear our thoughts on the Top 3 winches for Honda UTVs!
Honda UTV Winch Mounts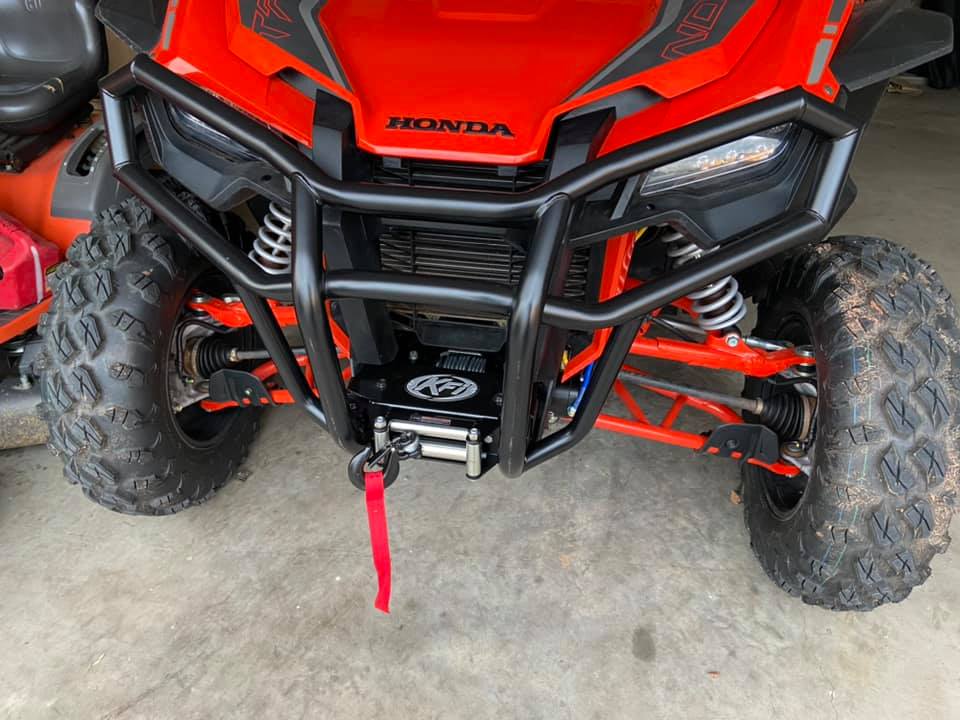 Before we get into the top three winches for the Honda Pioneer and Honda Talon, it's important to touch on the mounting mechanism that holds the winch to the vehicle. After all, if your winch mount is the weakest link in the chain, it won't matter how much pulling power your winch can generate, because the winch bracket is sure to bend or break before the full power of your winch is realized.
There are various ways to mount a winch on a Honda UTV. Standard winch brackets that bolt directly to the vehicle's frame are the most common, but you can also mount winches through the use of hitch receivers. Hitch-mounted winches are great for riders who may sometimes need a winch, and other times not. They are easily removable, and can be quickly switched from the front to the back if the proper winch wiring is in place.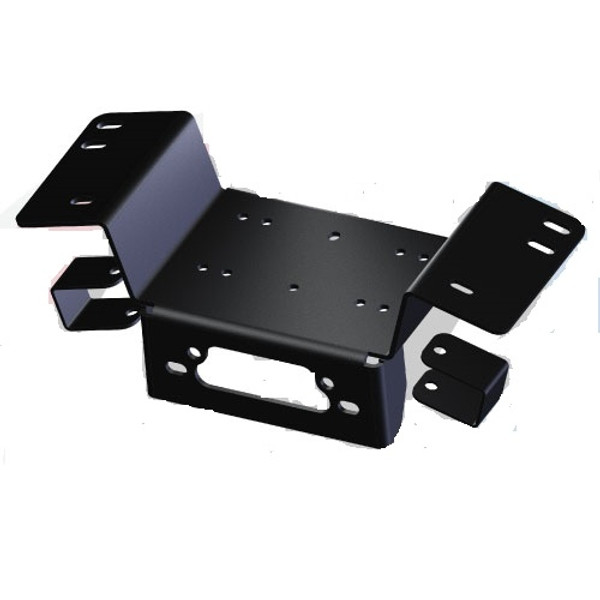 Another way to fix UTV winches onto Honda side-by-sides is with the help of a winch-ready bumper. Depending on the brand, winch bumpers can be exceptionally strong. They often secure the winch higher up on the vehicle towards the top of the hood, which allows for easy access when you find yourself submerged waist-deep in water or mud. Some winch bumpers also double as winch-ready brush guards, and in this way, you get extra protection for both the machine's undercarriage as well as your Honda Talon / Honda Pioneer winch!
Top 3 Winches For The Honda Pioneer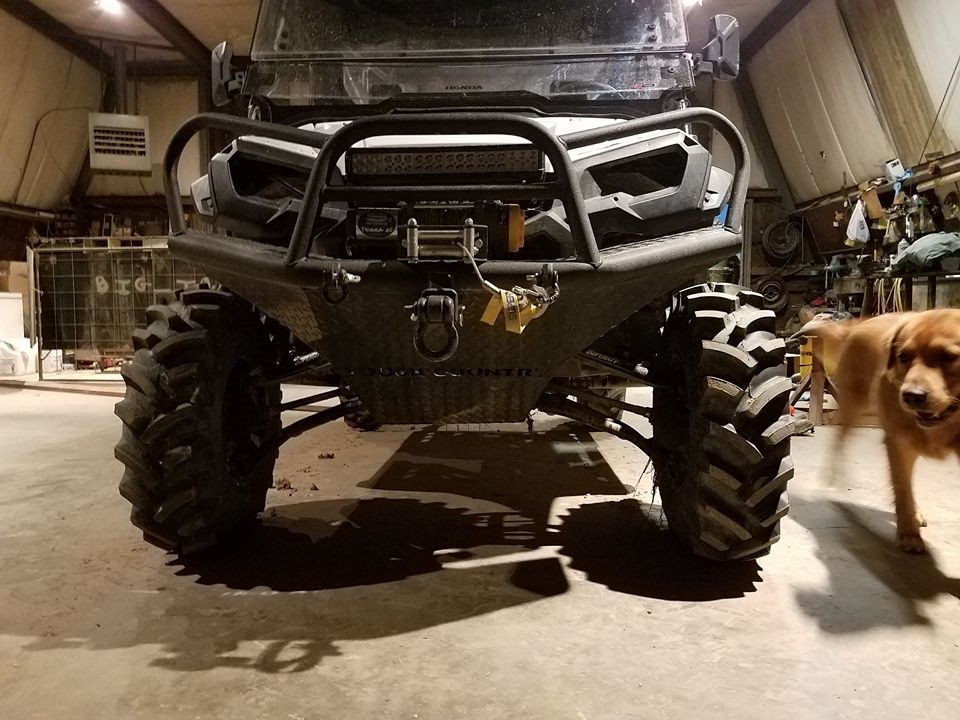 Generally speaking and all else being equal, riders with smaller machines will require less-powerful winches. So the best winches for the Honda Pioneer 500 aren't necessarily the best winches for the Honda Pioneer 1000. A unit like the 3,500 Lb Stealth winch by KFI should be plenty powerful for the Honda Pioneer 500. If you're up against some heavy-duty obstacles -- or you own a heavier machine like the Honda Pioneer 1000 -- a larger wide-spool winch might be required.
Holding the middle position between lightweight Honda Pioneer winches and heavy-duty Honda Pioneer winches is the 4,500 Lb winch by Rough Country. This is a synthetic-line winch, so not only is the strength-to-weight ratio higher than steel-cable winches, but because the line is lighter and less elastic, it doesn't pose a snapback risk while under tension. Synthetic-line winches are also nice because they won't cut your hands like wire winches. But you've gotta make sure to dry your synthetic winch line if it gets wet, clean it if it gets gritty, and keep it housed under a winch cover when not in use.
The final contender for the best Honda Pioneer winch is the 6,000 Lb Black Ops winch by SuperATV. This winch is optimal for heavy machines like the Honda Pioneer 1000, and its nearly 2 HP of line-pull power is more than enough to get you out of any jam that you find yourself in. If you want to go cheap, you can get yourself a Badlands 5000 winch. But if you want a quality winch and winch mount that includes things like mounting hardware, wiring, plugs, switches, and remotes, one of the aforementioned Honda Pioneer winch kits from Everything Honda Offroad is the only way to go!
The Top 3 Winches For The Honda Talon
Whereas the Honda Pioneer is primarily a work vehicle that can also be used for recreation, the Honda Talon is primarily a recreation vehicle that can also be used for work. As such, the best Honda Talon winches will be similar to the best Honda Pioneer winches, but not exactly the same.
Because winches on mud machines get repeatedly used and abused, they need to be rugged and reliable. And a top name in the winch game is Warn. Specifically, the Axon line of winches by Warn are particularly suited to withstand year after year of regular use in the messiest of situations. Axon winches for the Honda Talon are compact yet powerful, utilizing Warn's legendary 4WD Hub Lock clutching, their motor + contactor "Motactor" for simple installation, and revolutionary digital controls for real-time feedback on load forces and winch temperatures. Most winches can become damaged if you use them incorrectly, but the Axon line of Warn winches for the Honda Talon are about as foolproof as they come!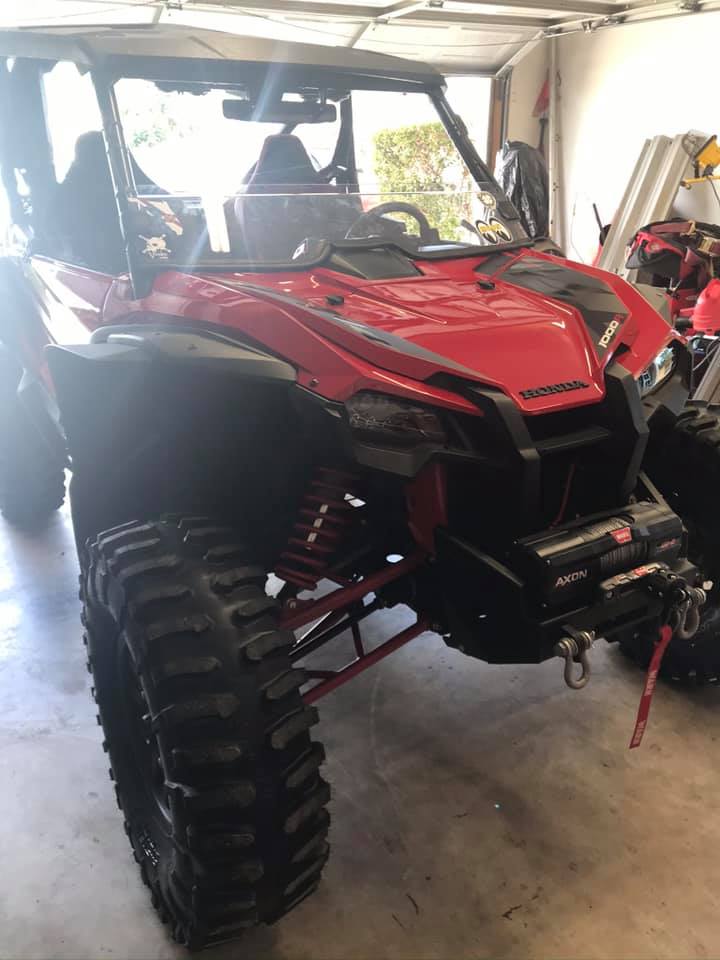 Most Warn winches come with hawse fairleads, so if you want a winch that comes with a multi-directional roller fairlead, we'd suggest the 4,500 Lb wide-spool steel winch by KFI. This Honda Talon winch comes with both a rocker-style dash switch as well as a corded remote, allowing you to operate it from multiple different locations. Plus, because KFI is a leader in UTV winch brackets, you won't have any trouble finding a KFI winch mount to hold your Honda Talon KFI winch.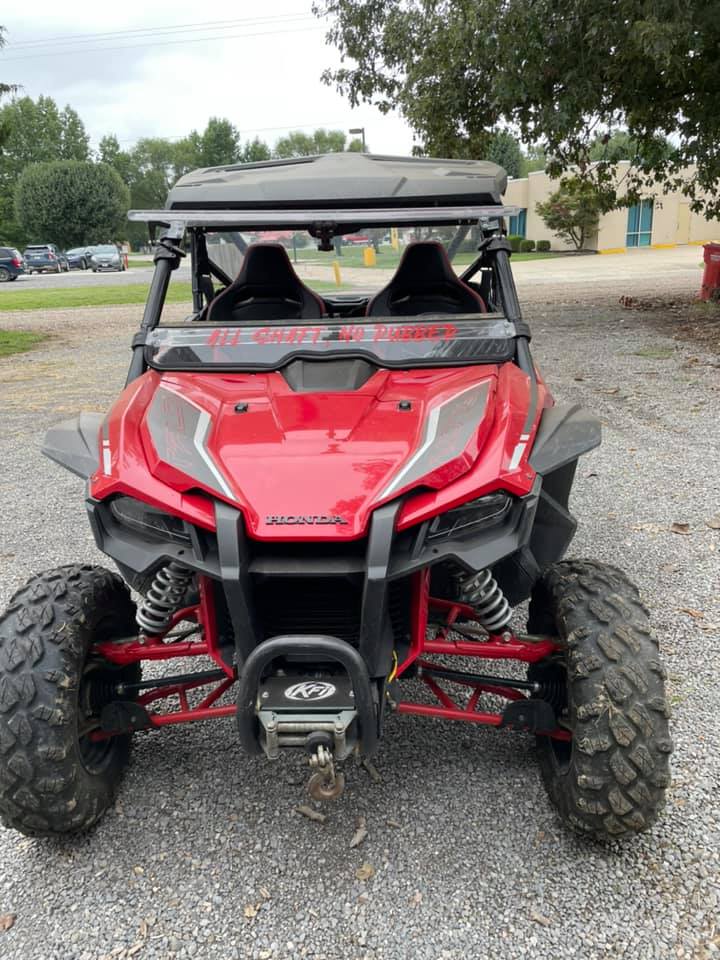 Owning a winch with a free-spooling drum makes pulling out line a breeze. And if your Honda Talon winch comes with a wireless remote, you can operate it at a distance from places like the anchor point or on dry land to the side of your stuck machine. The 3,500 Lb winch kit by Kimpex includes all these features and more, which is why it landed on our list of the top 3 Honda Talon winches. It's on the smaller side, which is great for casual riders who aren't going into rides aiming to get stuck. Should the need arise, however, you can always use a snatch block or two to augment the pulling power of your Kimpex winch.
Closing Thoughts
Some riders seek the best value for the money when shopping for Honda UTV winches, while others go for quality regardless of the price. But with a winch from Everything Honda Offroad, you don't have to choose between price and quality. If you're lazy or simply prefer riding over installing aftermarket accessories, the Honda Pioneer and Honda Talon winch kits we sell are incredibly simple to hook up. And on top of Honda UTV winches and winch mounts, we can also set you up with winch-related accessories like high-strength winch line extensions, carabiners, loop webbing, tow straps, D-rings, and other recovery gear.
You may disagree with our choices for the top three Honda UTV winches, but we stick by them. Our first-hand experience with off-road winches has had an oversized influence on the way we approach things. So pick up a Honda Talon or Honda Pioneer winch from Everything Honda Offorad and gauge for yourself its performance, resilience, and ease of use!