​Tips And Tricks For Hauling, Trailering, And Towing Your Honda Side-By-Side
Nov 30th 2021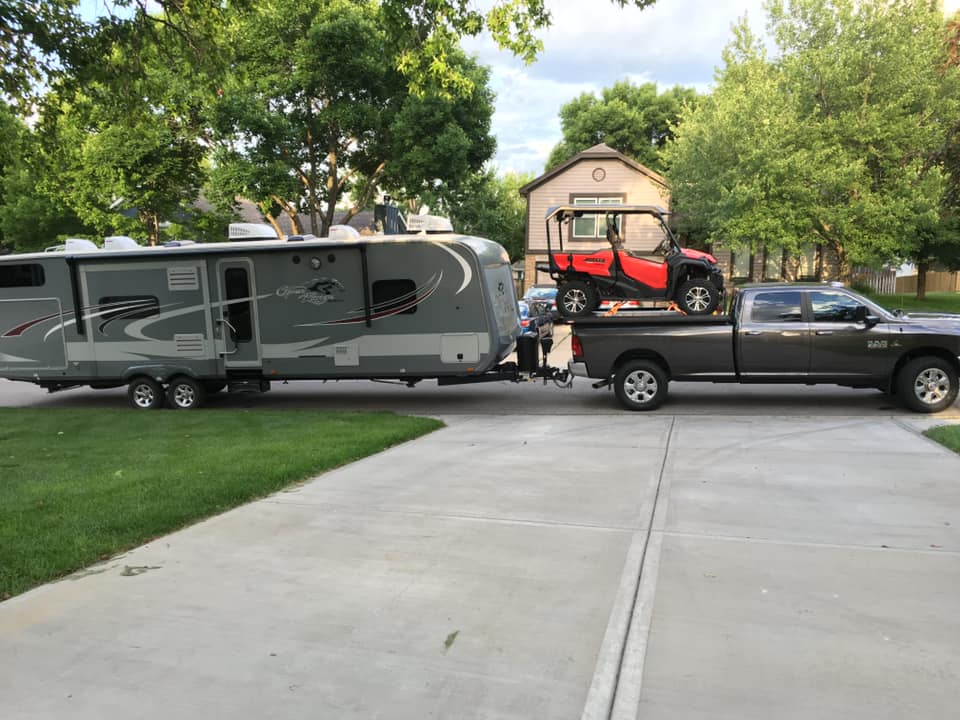 Trailers for Honda side-by-sides can cost nearly as much as the UTV itself. And for those with the means, it can often be worth it to pop on a bigger trailer, a sturdier trailer, or an enclosed trailer. If all you've got is a two-seat Honda Pioneer, you can likely get by with a 6'x10' single-axle trailer. But because Honda side-by-sides are a bit on the heavier side, it's advised that you get a dual-axle trailer just to be safe. Plus, with a longer 12', 14', or 16' trailer, it becomes easier to balance the load while leaving space for things like spare tires, tool boxes, coolers, and gear. Whether you're investigating enclosed toy haulers for your Honda Talon 1000R, or ready to pull the trigger on a small and simple flat-bed trailer for your Honda Pioneer 500, here are some tips and tricks for hauling, trailering, and towing your Honda side-by-side!
Enclosed Toy Haulers For The Honda Talon And Pioneer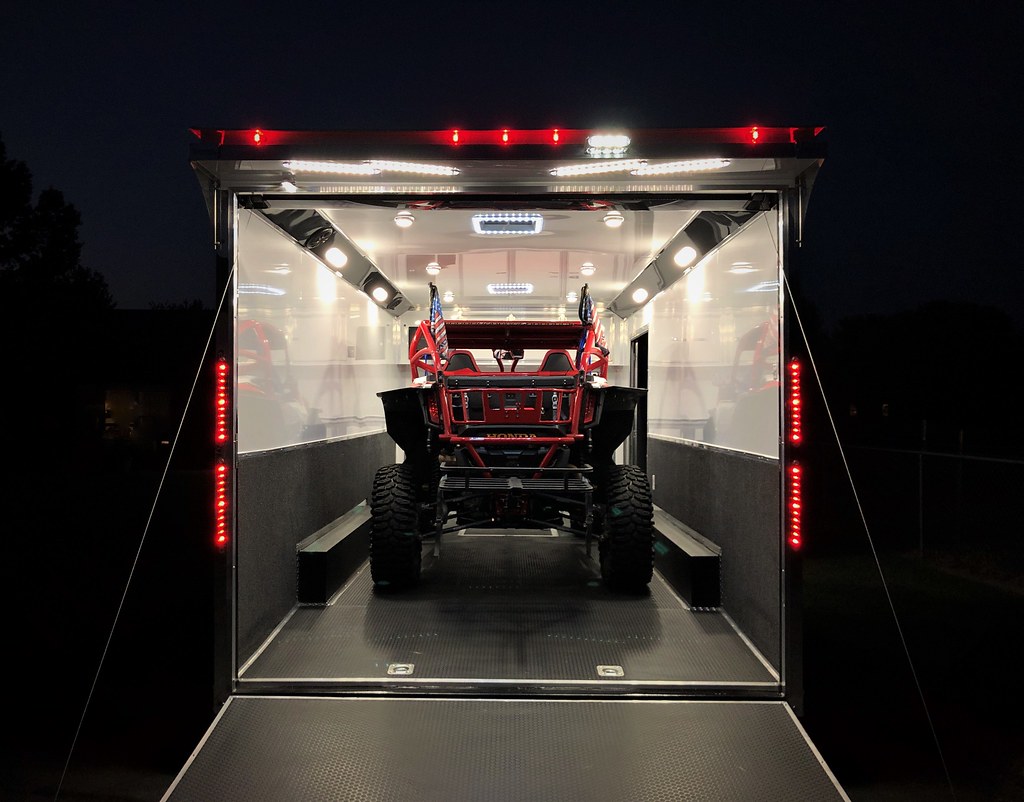 Space can be a little tight in 7-foot-wide enclosed trailers -- especially for those hauling a Honda Talon. If your rig is bone stock, you'll need to climb over the rear tire and stick to your diet in order to exit the vehicle after driving it onto a 7'-wide enclosed trailer. With factory wheels and 32" tires, you'll have around an inch on each side between the guide wires for the doors. Add wheel spacers or aftermarket wheels with backspacing to your rig and you'll fid that it no longer fits in a 7-foot-wide enclosed trailer. So if you've the money, it might be worth your while to spend a bit more on an 8-foot-wide enclosed trailer.
Flat-Bed Trailers For The Honda Pioneer And Honda Talon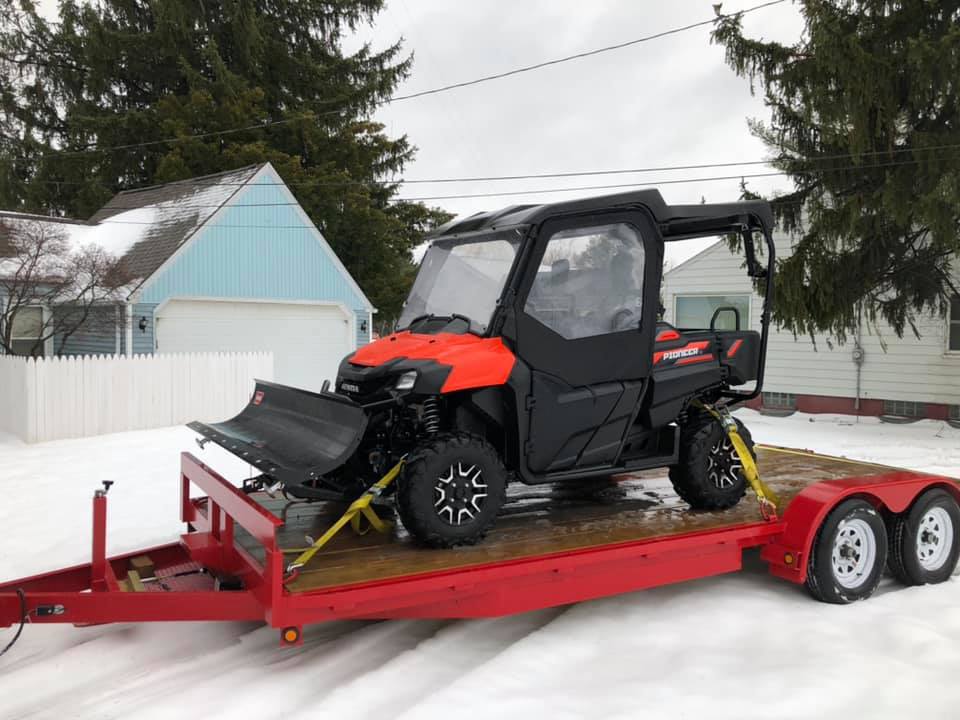 Like with enclosed trailers, going slightly wider / longer on a flat-bet UTV trailer will give you a little more wiggle room. Tandem-axle 14-foot trailers with brakes can work for some folks, while others require aluminum trailers with folding gates. In addition to size, there are other factors that will contribute to the sticker price of a side-by-side trailer.
For example, while a basic angle-iron trailer might be cheap, you simply cannot compare one to a full-tube trailer that has been powder coated. Furthermore, some flatbed trailers have side and front rails that can be easily lowered for side loading, or removed entirely if you deem them to be unnecessary.
Dual-axle trailers can hold more weight than single-axle trailers, and they'll leave you with extra room on the end for a generator, an ice chest, and miscellaneous supplies. Plus, dual-axle trailers are way easier to back up, and they can withstand tire blowouts without completely ruining your day. And even if you get a trailer without a built-in ramp gate, dual runner ramps, bi-fold ramps, and other styles of UTV loading ramps are not hard to come by.
Above-Bed UTV Decks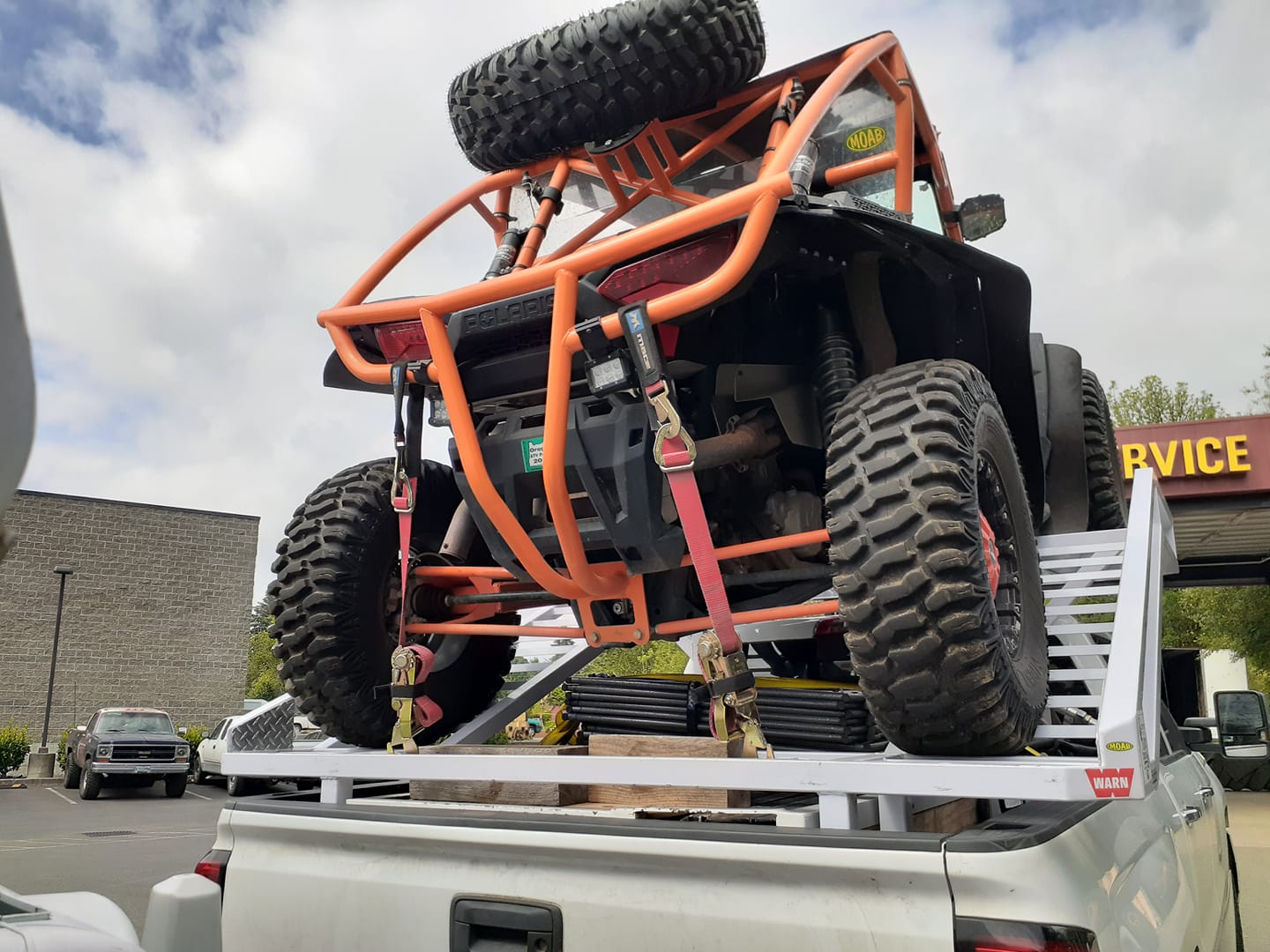 Sled decks and over-cab ramps are both good ways to transport a Honda side-by-side without ever using a trailer. Products like the Xplore SXS Deck by Marlon Recreational Products are stout, but their size is too big for some trucks. Additionally, over-bed side-by-side racks will render your bed useless for anything else, as you can't really put anything above one or below one like you can with sled decks. On top of this, UTV decks can also make your truck a little tippy, especially when traveling on the interstate parallel to fast-moving crosswinds. Nevertheless, the convenience and compactness of on-truck UTV decks makes them a popular product among a select group of riders!
Tie-Down Methods For The Honda Talon And Honda Pioneer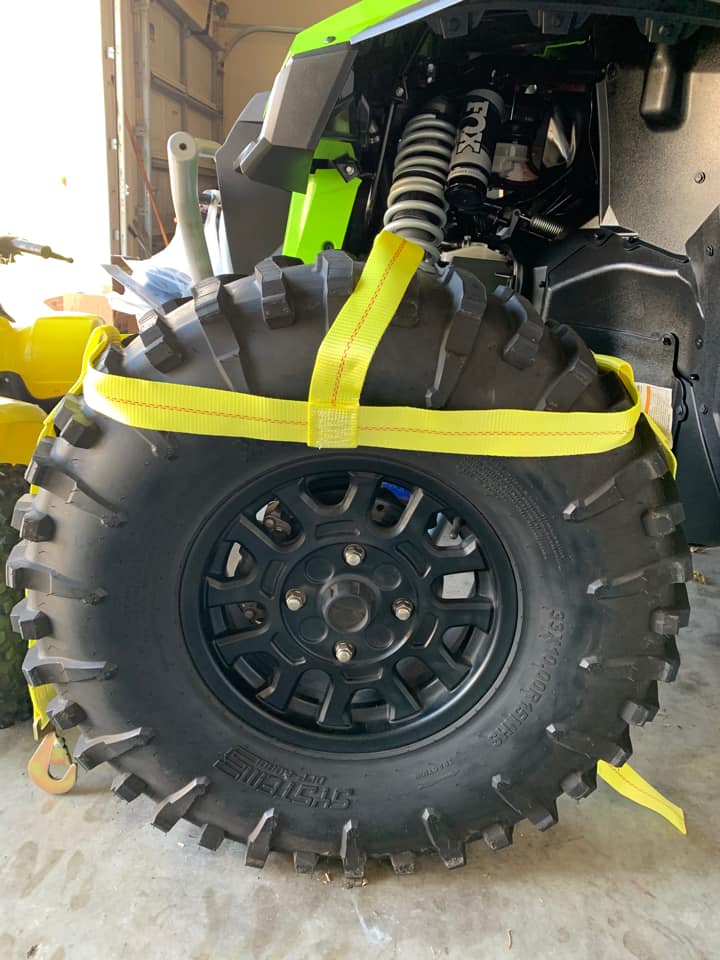 Be it tire bonnets, ratchet straps, or e-track systems, there are various methods at your disposal to secure a Honda UTV to the deck of a trailer. Some riders like to use wheel baskets / tire bonnets that allow the vehicle's suspension to move freely during transit, while others like to compress the machine's shocks with ratchet straps that run through the bumpers, cage pillars, or frame members.
Regarding the former, there are a few things to remember. First, if using an E-track system, make sure that it's centered with the tire and that your anchor points are as close to the tire as possible. Second of all, you should avoid using a single strap, and instead use a basket- or cradle-style tire tie-down strap with 3 points of contact. You never want to have the ratchet part of the strap sitting on the tire, and it also doesn't help if there's nothing on the strap to grip the tire. So to ensure that your Honda Pioneer or Honda Talon tire straps don't fall off, you can find rubber grippers or rubber sleeves that sit on the top of the tires so the straps don't slip!
Although it might be tempting, you should never use your machine's winch to secure it to a trailer. Tightening down your rig with a winch is fine under static loads, but when the loads are dynamic -- which is the case on bumpy, bouncy, and swervy roads -- the internal gears of your winch are liable to jam, shear, or break.
In addition to ratchet straps and tie-downs, you might also want to utilize wheel chocks while trailering. You can put wheel chocks on the sides of your tires to prevent lateral motion, or stick wheel chocks on the front and rear of your tires to prevent movement in the forward and backward directions.
Contrary to what you might think, it isn't the best idea to activate your UTV's parking brake while trailering. Not only does this put unnecessary stress on the brake seals and brake hoses, but it's also just superfluous if you've strapped your rig in place adequately.
Final Pieces Of Advice For Hauling, Trailering, And Towing Your Honda Side-By-Side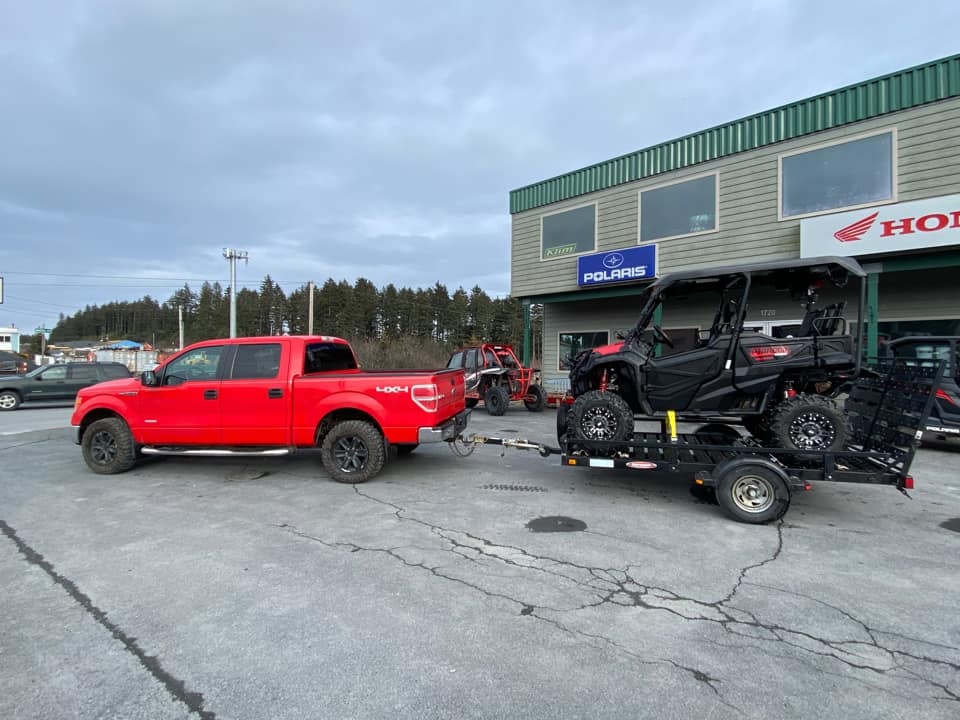 Regardless of how you fix your Honda UTV to your trailer or truck bed, make sure to never embark before giving it a good whack and saying "that ain't going nowhere". You can sometimes get by with shoddy tie-downs on short trips, but when you're traveling on highways and interstates for extended periods of time, it's simply not worth the risk to half-ass it with your trailer setup. So don't damage your bike, your trailer, or your truck and make sure to pick up the right straps, tie-downs, and trailer accessories from Everything Honda Offroad!