​Top Honda Talon Accessories
Oct 30th 2021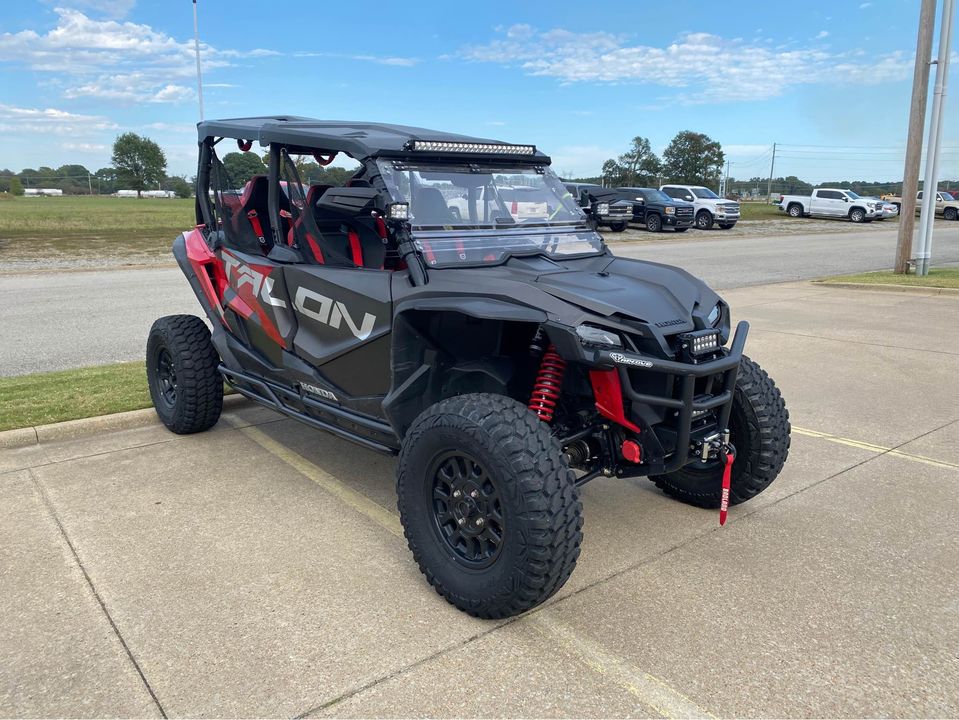 Asking about the best Honda Talon accessory is like asking what the best automobile is. If you need the ability to haul, a pickup is the best option, but if you've got a long commute and are strapped for cash, a compact diesel coupe that gets 45 miles-per-gallon is likely your best bet. And it's a similar situation with aftermarket Honda Talon accessories. But although there's no official list of the best Honda Talon accessories, there are a group of top Honda Talon accessories that most riders invest in -- or consider investing in at the very least -- after purchasing their Honda side-by-side. Sure, the right Honda Talon accessories for you will depend on both the territory you ride as well as your intentions with the vehicle. that being said, however, there are still some universal Honda Talon accessories that are sure to improve the safety, functionality, and performance of any Honda Talon in any situation. So without any further delays, here are the top accessories for the Honda Talon R and Honda Talon X!
Top Honda Talon Accessories: Where To Start?
When prioritizing potential Honda Talon accessories, it's hard not to put safety first -- which not only means the safety of you and your fellow riders, but also the safety of your machine as well. An aftermarket Honda Talon harness kit is something that riders typically invest in right off the bat. After all, if you don't remain safe while riding, you might not stick around long enough to enjoy your other Honda Talon accessories!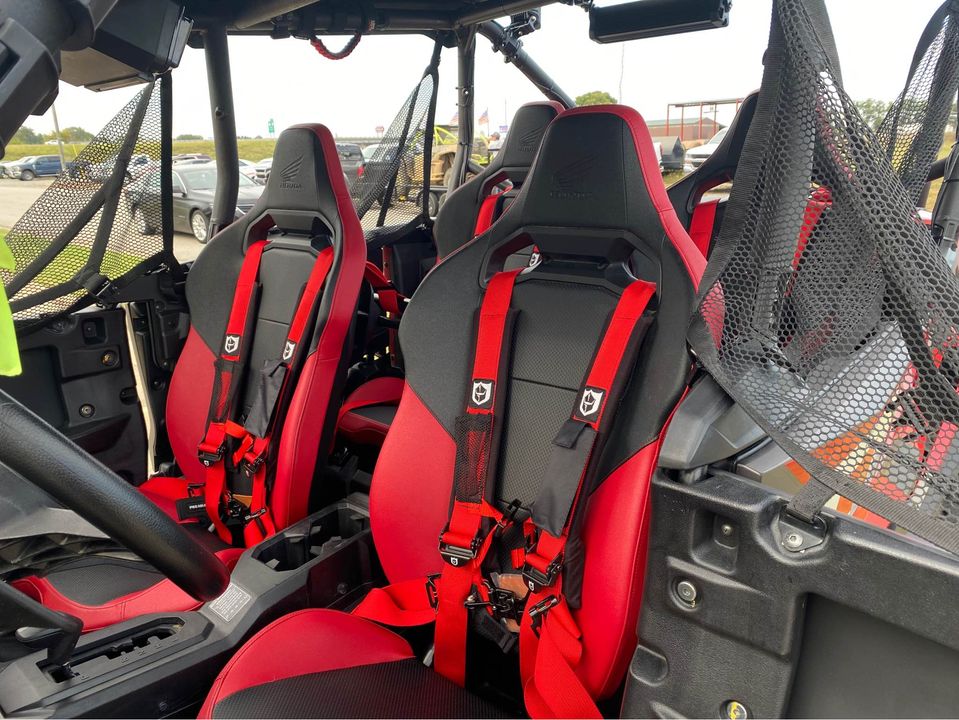 Products like 4-point harnesses, 5-point harnesses, and youth harnesses for the Honda Talon are all huge improvements over the stock Honda Talon seat belt. But even if you're safely secured to the seat of your UTV, if the factory roll cage collapses during a rollover event, you'll be crushed nonetheless. So after installing a driver side harness, a passenger side harness, and harnesses in the rear if you've got a Honda Talon 4, the next safety accessory on the list is an aftermarket Honda Talon roll cage. The UTV firm Thumper Fab makes an excellent bolt-on roll cage for the Honda Talon, and the Krash Offroad Honda Talon cage is also well-liked by riders.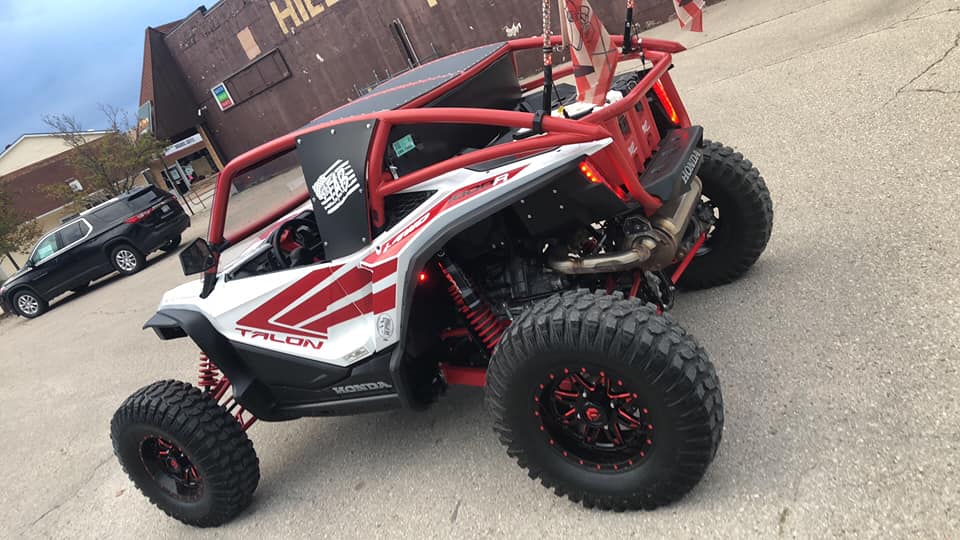 Accessories like reinforced roll cages and 4-point harnesses are obviously made to increase safety. But just because an accessory ups the safety factor of your rig doesn't mean that it can't also benefit you in other ways. Case in point, Honda Talon windshields made with tempered safety glass. A full glass Honda Talon windshield will not only protect you and the contents of your machine from fast-moving rock projectiles and overhanging branches, but it'll also keep the bugs out of your teeth when you're smiling from ear to ear uncontrollably from all the fun!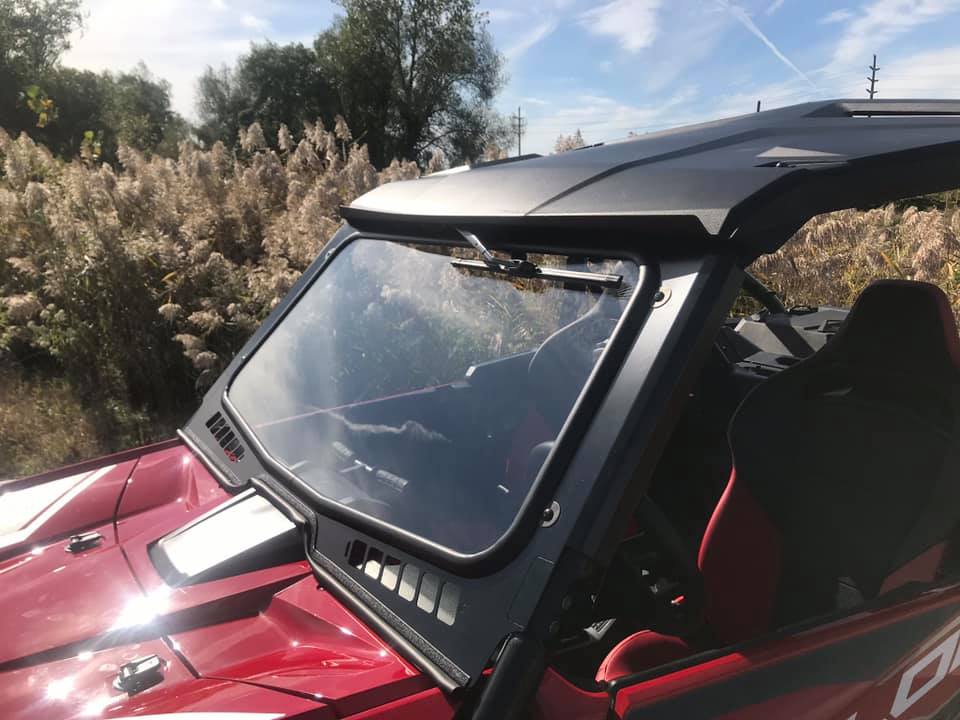 The Top Protective Accessories For The Honda Talon
Once you've ensured that you and your passengers are 100% safe within the cabin of your Talon -- which might necessitate the use of helmets and neck restraints for young riders -- you can then move on to the top Honda Talon accessories to protect your rig from damage. Some of the more arrogant riders out there will attribute crashes and vehicular damage to user error, stating that: "You've gotta learn how to drive if you're gonna have a SxS". But the fact of the matter is that driving skills have little to do with many types of accidents. And this is nowhere more clear than it is with Honda Talon undercarriage damage.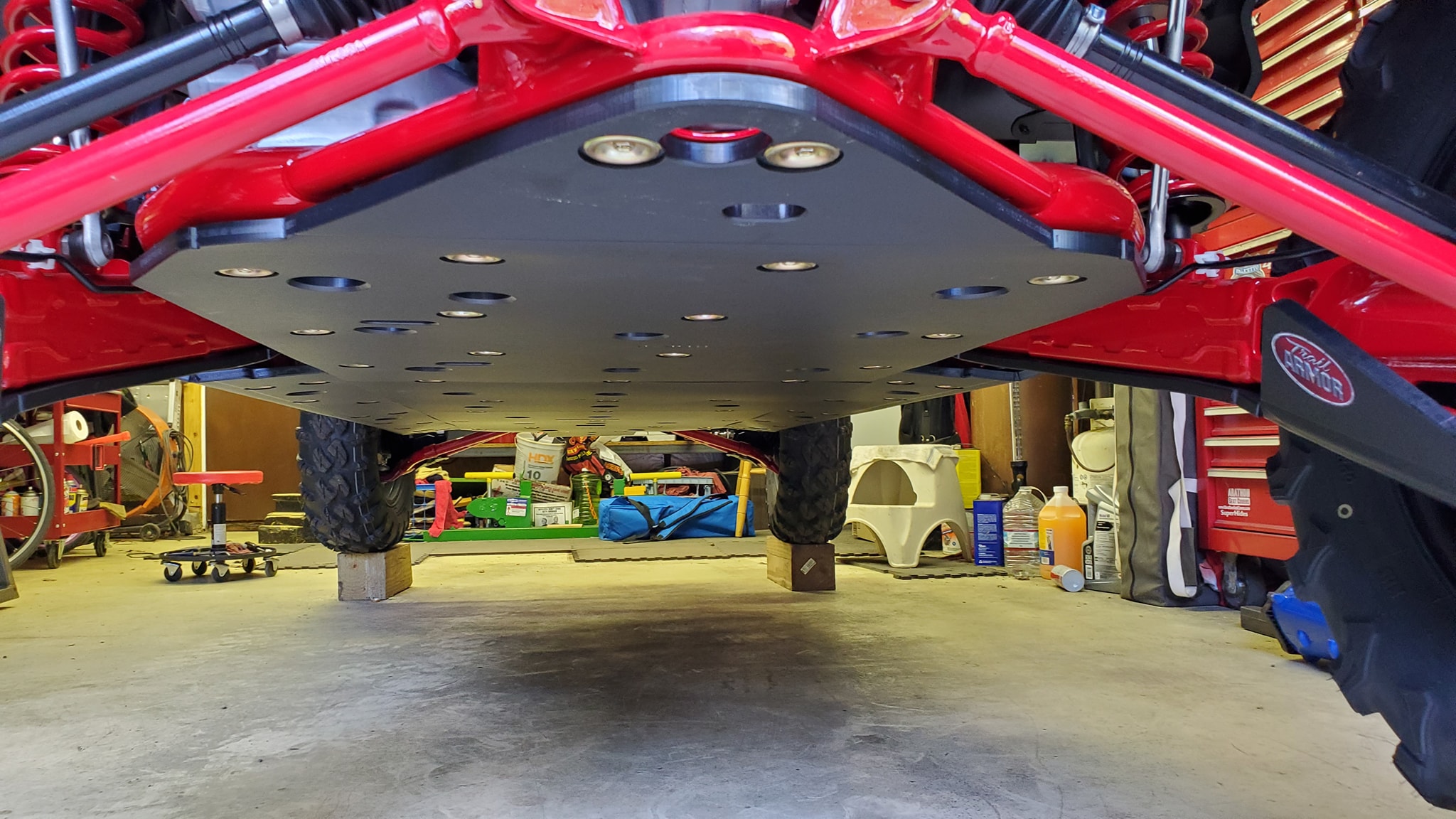 If you ask someone who's unfamiliar with off-roading, they'll likely tell you that the factory Honda Talon skid plates look like they're made from water bottle plastic. Add to this the fact that the Honda Talon oil pan is only an inch or so from the skid plates, and you'll come to the realization that aftermarket Honda Talon skid plates prove incredibly useful on all kinds of rocky terrain regardless of the driver's skill behind the wheel. So if you ride in Eastern Tennessee, the Hatfield-McCoy trail network in Southern West Virginia, or any other area where the ground is rough, rugged and rocky, you'll keep yourself from having a bad day by installing a Honda Talon skid plate kit like the ones by Axiom, Trail Armor, SuperATV, or UTV Inc!
Like skid plates, accessories like Honda Talon bumpers, Honda Talon nerf bars, and Honda Talon brush guards can also be used to armor your vehicle. But no matter how defended your rig may be against whacks, smacks, and impacts, without a Honda Talon winch, the heavier your Talon gets, the worse off you'll become in thick mud. Even if you ride in arid climates or avoid mud holes like the plague, running a 3,500 Lb or 4,500 Lb Honda Talon winch will save your hide if you ever do find yourself mired in the muck. Plus, you can also use Honda Talon winches to operate a snow plow during winter, to hoist game during hunting season, or to power agricultural implements in the spring and summer!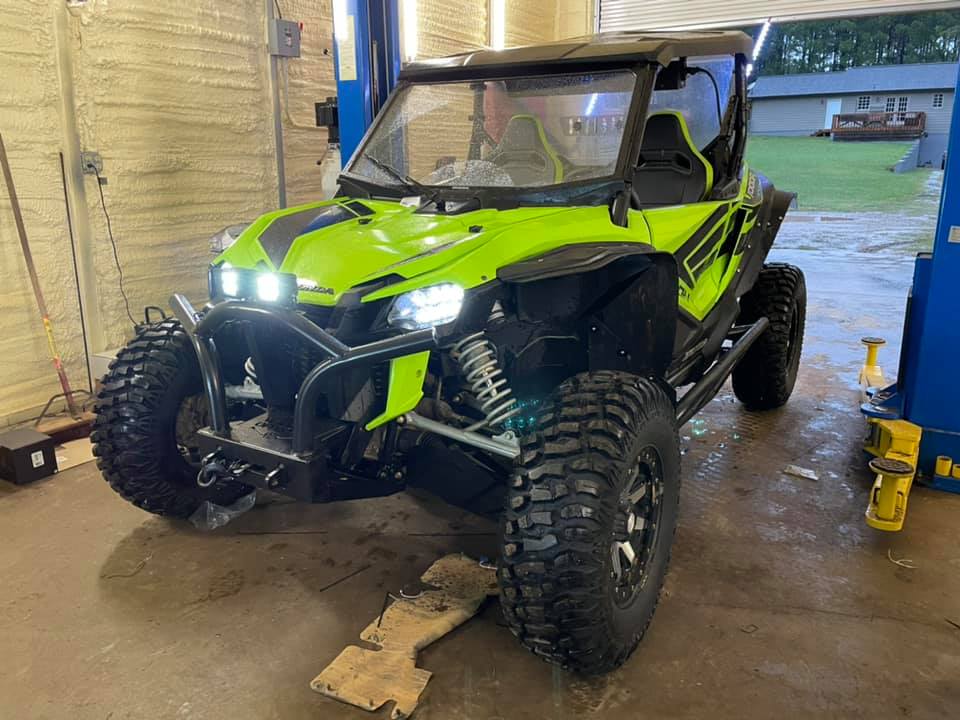 The Top Honda Talon Accessories For Comfort And Entertainment
Once you've got your basic safety and protection needs met, you can start adding creature-comfort accessories that bring extra enjoyment to your rides. Examples of these include accessories like Honda Talon stereo systems, Honda Talon communication systems, and Honda Talon seats.
Regarding the former, a huge number of riders swear by the Honda Talon sound systems by MTX Audio. For those who want something that's simpler to both setup and use, Honda Talon sound bars like the ones by Boss, SuperATV, and NavAtlas are the most convenient ways to rock it in the cockpit.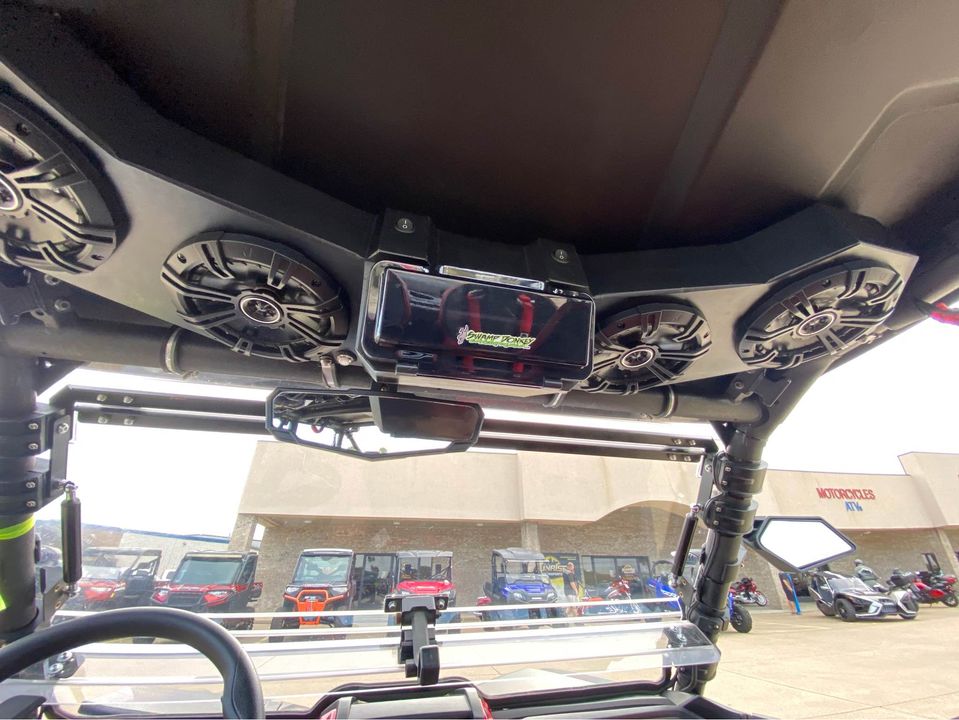 As far as communications go, Honda Talon intercoms are great for in-cab chit-chat, while Honda Talon radios are better suited for long-distance correspondence. Some Honda Talon comms systems can play music, while others can be integrated with digital cameras to capture voice commentary in addition to video footage.
Where comfort is concerned, few aftermarket accessories can match the Honda Talon Apex seats with built-in suspension by Aces Racing. Honda Talon seats like these cradle your lower back for more support, and give your butt a plush platform on which to sit. For long-distance trips or rides over bumpy terrain, there's nothing better than a Honda Talon seat upgrade for the highest degree of comfort!
The Top Honda Talon Performance Accessories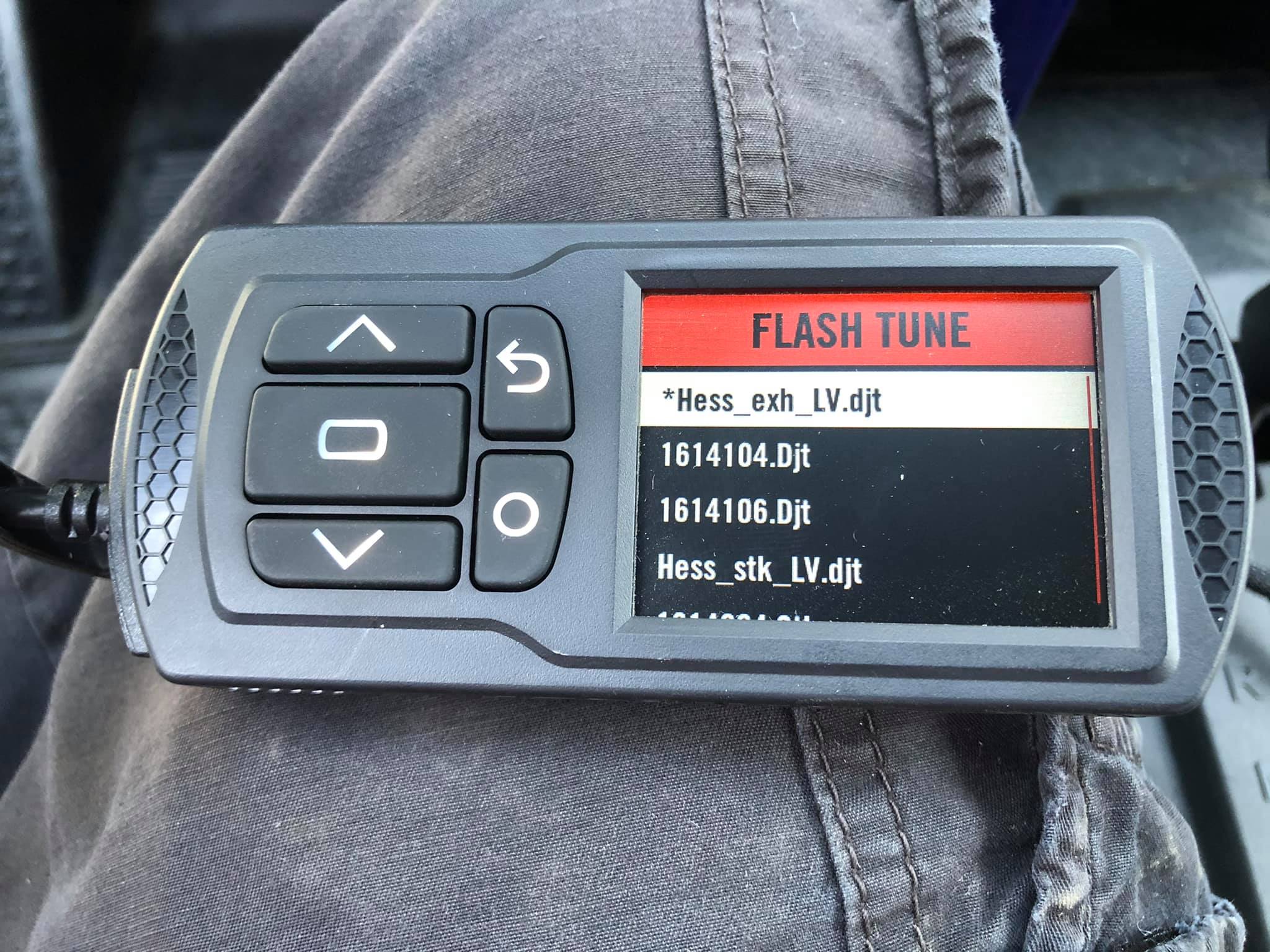 There are various accessories that can be installed to improve the performance of your Honda Talon. Performance engine mods are one example, and suspension mods like shock re-valving can be useful if you don't have the stock Live Valve suspension system. But unless you've got an entire checkbook to throw at your rig, it's probably best to focus on the top performance Honda Talon accessories that provide the most bang for the buck.
Every upgrade will make your UTV a better machine, but using the Pareto Principle to get the most gains out of the fewest accessories will deliver far better results on a per-dollar basis. One accessory that does this better than all others is a Honda Talon ECU tuner. With an ECU programmer installed in your rig, you not only be able to remove rev and top-end limiters to reach faster speeds, but you can also make adjustments to things like timing, fuel mapping, and throttle control. And if you swap out your Honda Talon clutch or exhaust with an aftermarket alternative, you can ensure peak performance with the right Honda Talon ECU tuner!
The Top Honda Talon Accessories For Reliability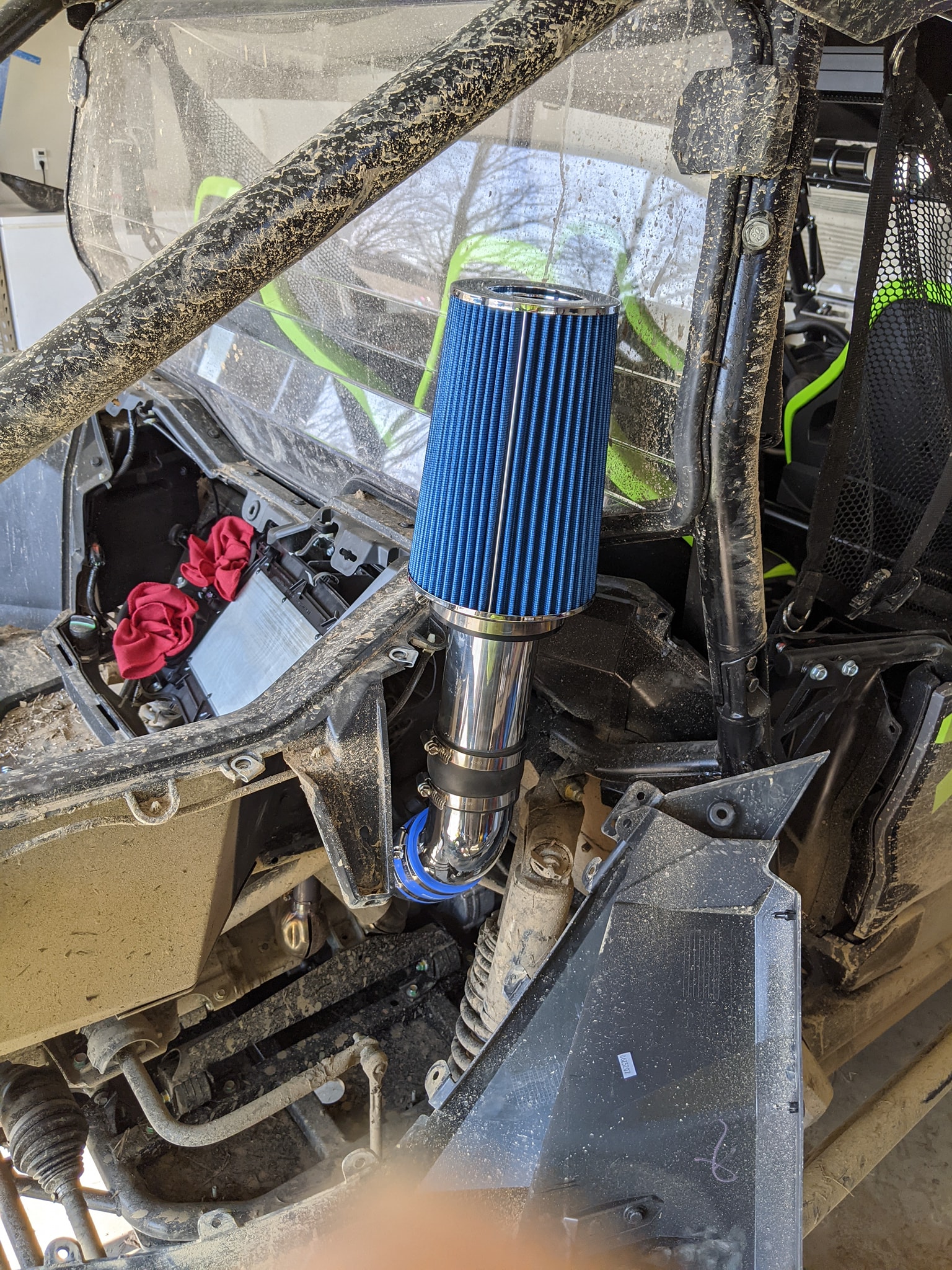 No matter if you drive gently or aggressively, it's always prudent to look into accessories that'll increase your UTV's long-term dependability. The belt-less Honda Talon is already an industry leader in its ability keep chugging without breaking down. But with a little TLC and the right accessories / replacement parts, you can make your Talon even more reliable than it is direct from the factory!
One thing to know is that the Honda Talon can develop transmission problems if you incorrectly operate the vehicle in low or high gear, and these issues become exacerbated if you fail to properly adjust the shift cable. The stock Honda Talon air filter should also be replaced in short order, as they don't tend to last for extended periods of time -- especially in dusty conditions. While it might be a pain to change fluids and filters, or perhaps too time consuming to remove the shifter handle to adjust the shifter cable, any machine will turn to junk if you don't maintain it. So for the sake of reliability, don't cheap out, pick up the right accessories, and give your Honda Talon a little self service!
Concluding Thoughts On The Top Honda Talon Accessories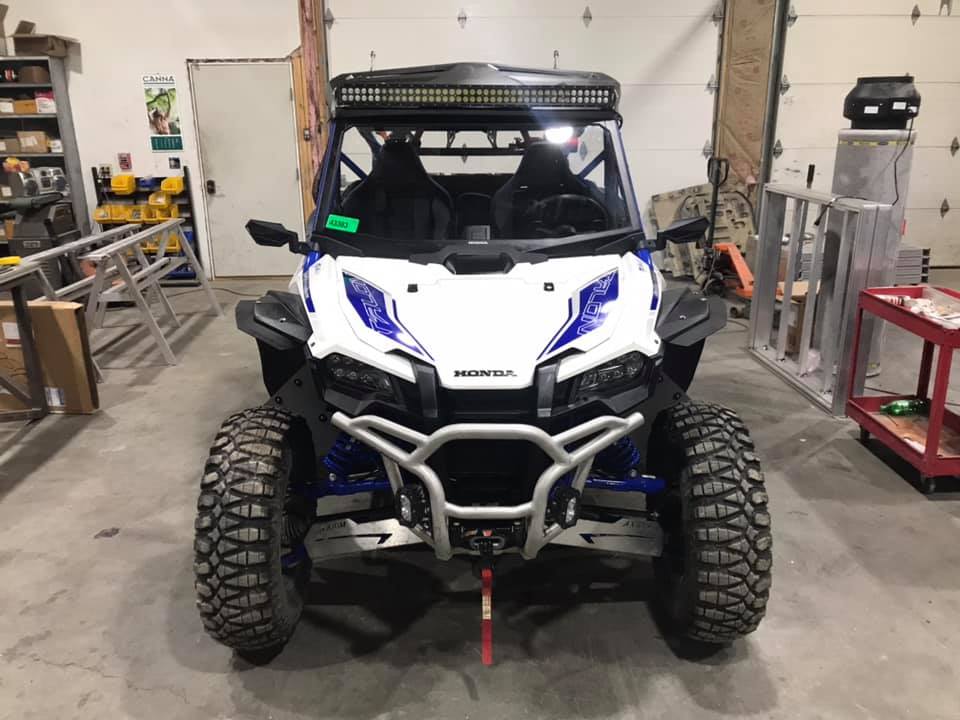 From Spike Powersports fender flares to Rigid light bars and hinged tailgate replacements by Aprove, there's no shortage of aftermarket accessories for the Honda Talon and Honda Talon 4. Some accessories are little more than window dressings, while others are pretty important for the safety and overall well-being of you and the other occupants. You might lack the funds to procure every Honda Talon accessory that you're after, but if you start with the top Honda Talon accessories and work your way down from there, you'll be putting your hard-earned cash to work in the most maximally beneficial way!