What Is The Top Speed Of The Honda Pioneer 500?
Aug 14th 2021
There are several factors that can affect your Honda Pioneer 500 top speed. If you've installed aftermarket accessories like bigger tires, portal lifts, and gear reduction kits, you'll find that your Honda Pioneer top speed is 5-10 MPH slower than it used to be. Furthermore, the way you gauge your Honda Pioneer 500 top speed could also skew the resulting speed measurements in one way or another. While the speedometer is pretty precise on a stock machine, you'll get better accuracy when measuring the top speed of your Honda Pioneer 500 with a GPS if you've made aftermarket modifications to it. Alternatively, calibrating your speedometer with a Speedo DRD can also yield more accurate results. But on average, how fast can one expect to go in a Honda Pioneer 500? Let's cut the crap and get to the crux of the question regarding the Honda Pioneer 500 top speed!
Honda Pioneer 500 Top Speed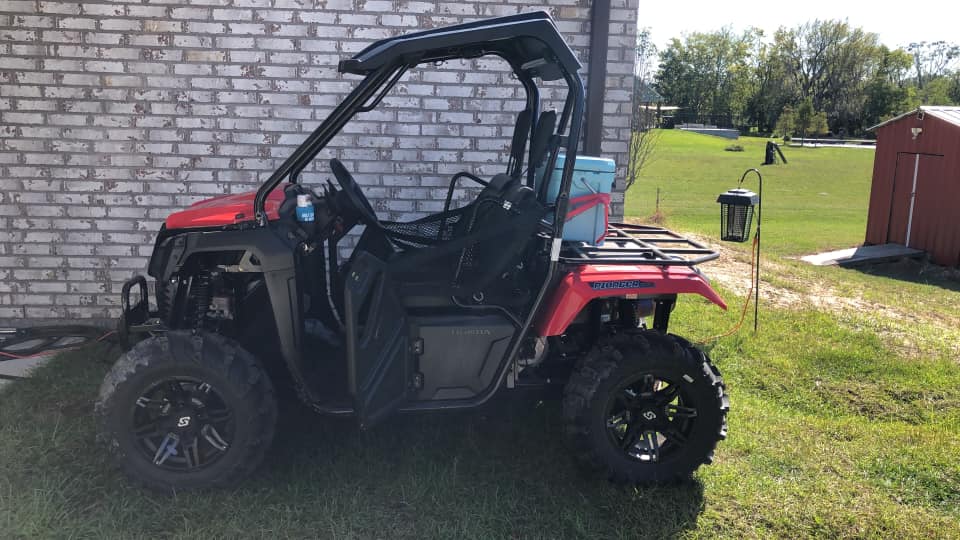 All else being equal, the Honda Pioneer 500 tops out at around 40 MPH (a little more than 64 kilometers per hour). Compared to a Kawasaki Mule, this is pretty fast. But when you juxtapose this top speed with that of a Polaris RZR or Can-Am Maverick, it's a bit slow. Along with this 40 MPH top speed, however, comes reliability. So if you'd rather ride your side-by-side than fix it, the 40 MPH top speed of a Honda Pioneer 500 is a sacrifice that might be more than worth it in the long run!
On top of greater reliability, the Honda Pioneer 500 max speed also contributes to better gas mileage -- you can ride all day and barely make a dent in your gas tank! Couple this with low upfront costs and even lower operational costs (especially if you don't beat the hell out of your stuff) and it's little wonder why riders who are partial to fast speeds still opt for Honda Pioneer 500s.
Honda Pioneer 500 Engine Specs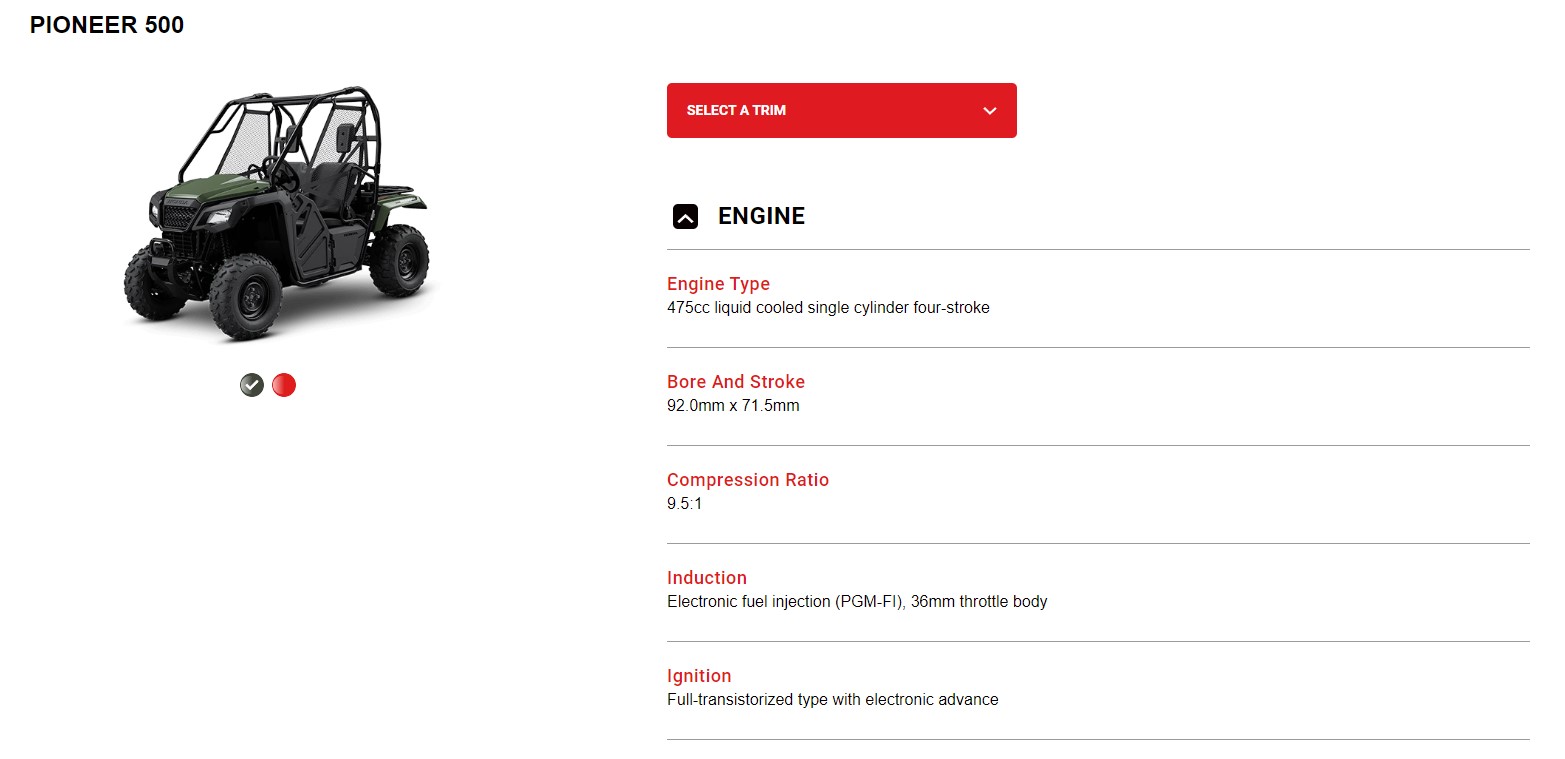 The electronic fuel injected engine of the Honda Pioneer 500 uses a single liquid-cooled cylinder with a displacement of 475 cubic centimeters to generate power in a 4-stroke action that consists of an intake phase, a compression phase, a combustion phase, and an exhaust phase. The bore size (aka cylinder diameter) of the Honda Pioneer 500 engine measures in at 92.0mm, while the stroke (the distance that the piston travels within the cylinder) is 71.5mm.
As far as maximum and minimum cylinder volumes go, the compression ratio of a Honda Pioneer 500 engine is 9.5 to 1. And where airflow is concerned, the vehicle's engine receives oxygen delivery via a 36mm throttle body.
Honda Pioneer 500 Size Specs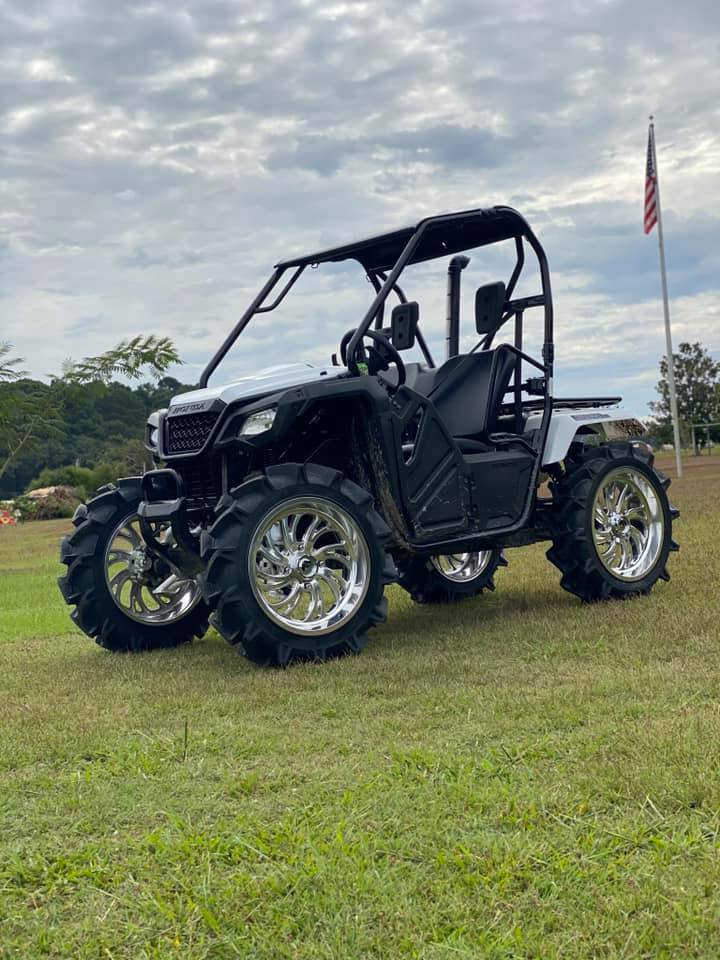 Although the engine is key to power generation, it's not the only factor to consider with regards to the Honda Pioneer 500's top speed. You could have the biggest and most powerful engine in the world, but if it's made to propel an equally large vehicle, the extra torque and horsepower it's able to generate will be counteracted by the additional weight it must carry. Because of this, it's important to look not only at HP, but also the weight-to-power ratio. The curb weight of a Honda Pioneer 500 (which includes all the factory accessories, and requisite fluids, oils, and propellants) is 1025 pounds. With a little under 29 horsepower, this leaves users with around 35 pounds per horsepower. While aftermarket exhausts, tunes, and other Honda Pioneer 500 engine performance accessories can be added to increase the power-to-weight ratio for faster top speeds, you'll be hard pressed to reach velocities comparable to a Honda Pioneer 1000 on a flat stretch of smooth blacktop.
Other Speed-Related Thoughts On The Honda Pioneer 500
Many riders are of the opinion that the 5-speed Honda Pioneer 500 should have a sixth gear for faster top speeds and better performance on straightaways. But even the 3-speed Honda Pioneer 700 can outpace the P500 -- albeit by only 5 MPH or so. Accordingly, if you're after a vehicle with a little more giddy-up and go, you'd be better off upsizing to a Honda Pioneer 1000 over a Honda Pioneer 700. Because of its 50" width, 102.6" length, and 12.8' turning radius, however, the maneuverability of the Honda Pioneer 500 and Honda Pioneer 500 Mud Edition is unrivaled by Honda's other UTV offerings. Some riders choose the Honda Pioneer 500 as a starter side-by-side, while others choose to introduce their kids to off-roading with a Honda Pioneer 500 that's been limited to 14 MPH by unplugging the connector on the seat belt wiring. You won't be the first one out of the gate with the top speed of a Honda Pioneer 500, but like the tortoise against the hair, you might just win the race through sheer persistence, tenacity, and an outright unwillingness to cease moving forward!