3 Easy Ways to Kid-Proof your Honda Side-By-Side!
Feb 15th 2022
At the top of most off-road enthusiast's list of favorite things in life, their Honda side-by-side tends to be near the top.
For those with a family, however, some might say their kids are their actual pride and joy. Or at least we would hope so… And that gave us an idea: how can we combine two of your favorite things in the world?
By making your Honda Talon or Pioneer safe for your kids to ride in!
Just like with your everyday car or truck, a Honda UTV isn't exactly kid safe. In fact, just as with cars, it may actually be illegal for your child to ride in the Talon or Pioneer without proper safety precautions.
What might those safety precautions be? Let's find out!
Honda Pioneer and Talon Booster Seats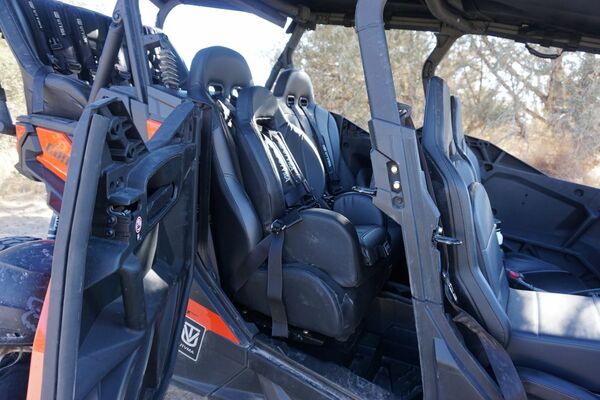 In most states, such as California, it happens to be illegal for a child under 8 years of age to ride in a motor vehicle without a booster seat. Whats more, if they're under 2 years old, they actually are required to be in a car seat. All of this is old news to us, right? We wouldn't dream of putting our little ones in danger while in the car!
Well, our side-by-sides are no different. Your stock Honda Pioneer seats just won't do, but a booster seat solves this issue handily. By strapping in atop your stock bench or bucket seats, booster seats such as the Honda Pioneer / Talon Mini Bucket Seat by UTV Mountain keep your kids safe and sound while you mob down the trails.
Honda Side-By-Side Helmets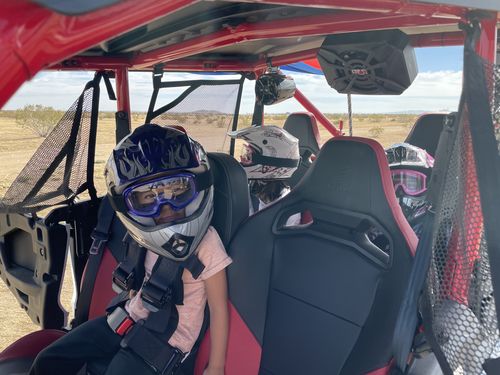 Coming in second on our list, but in all honesty may be the most important safety feature for your kids, is the humble helmet.
Although most children will fight tooth and nail to not have to wear a helmet, the truth is a helmet will quite literally save their lives. What happens if their seat restraints fail, or somehow they forgot to put them on? What if you roll the UTV? You will immediately be glad you ensured your kid had a helmet on in those cases, right?
So get ahead of the curve.
Units like the Honda Pioneer / Talon Pyrotect MIDAIR Wired Helmet by Rugged Radios look great, feel great, and have all the protection needed for those most important to you. And with many different fits and sizes available, you may want to think about picking one of these up for yourself as well.
One of the coolest features of these helmets, that your kids will love, is the ability to add a Alpha Audio Offroad Helmet Kit by Rugged Radios to them so that you can still talk to each other even over all the noise of the UTV and trail!
So, what else can we do to make our Honda Talon or Pioneer safer for the little ones?
Harnesses Made for Kids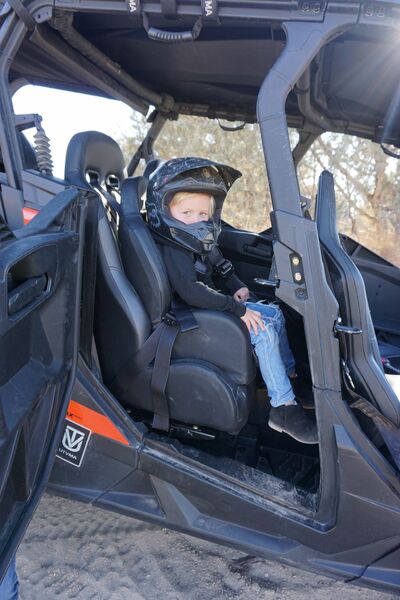 Just like with the seats we covered earlier, the stock Honda Pioneer harnesses aren't likely to be the best for kids either.
But with offerings like the Honda Pioneer or Talon 4-Point Youth Harness by Dragon Fire available as direct replacements for the stock units, your ground is more than covered. These fit the Pioneer or the Talon, and instantly create a safer more comfortable ride for the kids.
Since we are on the subject of safety, adding a safer replacement Honda Pioneer Harness will do wonders for yourself as the driver as well. Not only can you find many options that are even more secure than the stock unit, but they'll be more comfortable as well with padding in all the right places!
Now that you've got your shopping list of Honda Pioneer and Talon safety upgrades for your kids, be sure to make this your next weekend project. We've got everything you need here at Everything Honda Offroad!